A fun-filled MTB holiday in the French Pyrenees
INCLUDED
Transfer from Toulouse
7 nights B&B accomm
5 days guided mountain biking
6 evening meals
NOT INCLUDED
Flights
Drinks with meals
OPTIONS
Bike hire
Packed lunches
CONDITIONS
For pre-composed groups of 4-7 people
On this guided XC mountain biking holiday in the French Pyrenees, you'll experience the endless paths, tracks and trails of a simply stunning mountain environment.
What's the mountain biking like?
This mountain biking holiday will appeal to any regular mountain biker who loves riding natural trails.
The mountain biking in the Luchon area of the French Pyrenees is varied and challenging, the scenery breath-takingly beautiful and the trails quiet and off the beaten track.
There is an endless variety of trails here, some fast and flowy, others rocky and technical, with long fireroad ascents that will challenge your endurance to off-camber singletrack that will test your balance and your nerve.
Those riders who have the confidence and ability will have the possibility to challenge their skills on the steeper more technical terrain whilst those seeking an easier ride will have route options to suit them.
Is this mountain biking holiday in France for me?
If you are a regular XC mountain biker who has a reasonable level of fitness and a good 'can do' attitude then this is the perfect opportunity to improve your form, skills and confidence.
You will be out on the trails typically from 10am to 4pm on the 5 days that you will be riding. But the pace will be up to you. You are on holiday after all!
There will be plenty of stops for refuelling and of course for lunch too, not to mention essential photo-taking breaks. Don't forget that spare battery and memory card. You'll need them.
Skills coaching on this mountain bike holiday in France is provided as a matter of course by your professionally qualified guide.
Whether it's your bike set up, body position or riding technique that is letting you down, you are sure to return home equipped with some hot tips that will help you take your riding to the next level.
Accommodation for your mountain biking holiday in France
Our preferred accommodation for your MTB holiday is a no frills, kick your shoes off and make yourself at home small hotel within walking distance of the centre of Bagnères de Luchon.
See the Accommodation tab for full details.
Should it not be possible to accommodate you at this address we have several other possibilities in the immediate area.
This is an outline itinerary for your XC mountain biking holiday. However, each day's riding will be decided according to the group's ability and wishes.
Arrival
After the 1h30 transfer from Toulouse airport you'll settle  into your accommodation in Luchon and enjoy a home cooked dinner before retiring to bed for a good night's sleep, ready for a day of mountain biking fun in the morning.
Day1
The group will be taken on a 'warm up' ride to give your guide the opportunity to assess each individual's ability (both skill and fitness). The ride will include a long climb to assess fitness level and also short technical climbs that may be steep, rocky, rooty to assess each riders climbing ability. There'll no doubt be lots of singletrack that will include fast and flowy trails, technical options and plenty of switchback descending.
Day2
Today, your itinerary may be based around the Oô valley area where there are three optional starts that suit different skill and fitness levels. There's a meeting point before riding as a group to the next split point where there are both technical and less technical trail options to choose from. The trails are generally undulating and single track orientated until the group reach the stunning mountain village of Oô.
There are three loops from this village suitable for different skill and fitness levels. Your guides will decide which loop suits different riders, but all 3 of them finish at the cafe where you may well wish to stop for refreshments. This is also where you'll stop for lunch.
After lunch there will be a more direct route back to Luchon for those guests who are tired and would like to finish early, whilst remaining members of the group can choose to do either a down hill ride or another cross country loop.
Day3
Today you may explore the huge variety of fun, varied trails of the foothills back down the valley around the Col des Ares area. There are several loops to choose from here, all of which are both weather and rider dependent.
There may be a drink stop at the top of the Col des Ares and lunch will be in one of the small, picturesque villages in the foothills such as Izaut-de-l'hotel. The ride will finish at Saint Pe-D'Ardet where there is a lovely lake where you can swim and enjoy afternoon tea and a cold drink.
Day4
REST DAY – A day off today, so why not explore Luchon or choose one of the many extra activities available in the area. There are waymarked trail runs and hikes from the town or you may wish to ease those tired muscles in the unique Vaporium in Luchon. This is Europe's only entirely natural underground hammam which uses the underground thermal waters to create a sauna type atmosphere of between 38 and 42 deg C
For those who can't bear to have a day off the bike, there's also the option of a 3hr skills coaching session from 10am-1pm.
Day5
Today, if your skills are up to it, you may head to Spain! You may choose to start the ride by riding offroad up to the Col du Portillon which is a real tester. However, if this doesn't appeal you can choose the uplift option part of the way in the mini bus. The ride will then start up a long steady gradient climb where it will open out to magnificent views down to Hospice de France.
The descent from here is technically difficult in places, but there are also long sections of flowy twisty riding and three options for the descent down to the Hospice de France which are graded according to rider ability. There will be a lunch stop at Hospice de France and drinks can also be purchased from the restaurant.
After lunch a 10 min fire road climb takes the group to the start of a long twisty mountain descent down to Luchon. The descent is undulating in places and can take 1-2hrs depending on rider ability. You'll end the ride back down in Luchon where you can stop for a cold refreshing drink at one of the many local bars in town.
Day6
Today may be a downhill day if the group fancies a day of descending from the Superbagneres station. There are rides for all abilities and the group will start on an easier trail to warm up before your guide will take you on a wide variety of trails, from twisty single track to steep, slow and technical.

Today is the day that you leave the beautiful Pyrenees. The single transfer back up to Toulouse will be in time for the earliest departures of the group.
Le Lutin – Luchon
Your base for this mountain biking holiday is a relaxed, no frills small hotel with a 'kick off your shoes and make yourself at home' vibe.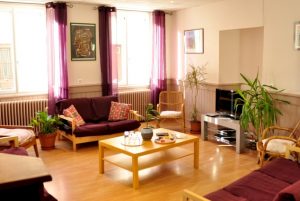 The accommodation is in a quiet location and yet just a short walk to Luchon town centre and also the outdoor swimming pool and Vaporarium.
You've got secure bike storage facilities here as well as bike washing and bike maintenance facilities.
The rooms are basic but practical, some with en suite facilities, others sharing two shower rooms and WCs on the landing.
Russ is renowned for his cooking and his evening meals are legendary. He uses locally sourced produce as much as possible and the three course meals will satisfy even the biggest of appetites.
The breakfast buffet includes cheeses, ham, yoghurt, a variety of cereals, breads, pastries, tea, coffee, hot chocolate …. you get the picture!