An MTB holiday for women in the French Pyrenees
INCLUDED
Transfer from Toulouse
7 nights B&B
5 days of guided mountain biking
6 evening meals
NOT INCLUDED
Flights
Drinks
OPTIONS
Full suss bike hire
Packed lunches
CONDITIONS
For min 5 people
We are delighted to offer a women-only version of our highly rated XC mountain biking holiday in the stunning mountains of the French Pyrenees.
Why a women's MTB holiday? Quite simply because of the relaxed and highly supportive not to mention fun atmosphere of women only groups. It really is an environment in which women mountain bikers thrive. To see confidence evolving over the holiday is pretty special and it's not unusual for the group to keep in touch once they have returned home.
Mutual encouragement, fun and laughs tend to be the order of the day on these women's MTB holidays plus of course winding up your male guide! He loves every minute of it, believe me!
What's the mountain biking like in the Pyrenees?
The riding will appeal to any regular mountain biker who loves riding natural trails. The mountain biking in the Luchon area of the French Pyrenees is varied and challenging, the scenery breath-takingly beautiful and the trails quiet and off the beaten track.
There is an endless variety of trails here, some fast and flowy, others rocky and technical, with long fireroad ascents that will challenge your endurance to off-camber singletrack that will test your balance and your nerve.
Those mountain bikers who have the confidence and ability will be able to challenge their skills on the steeper more technical terrain whilst those seeking an easier ride will have route options to suit them.
Is this women's MTB holiday for me?
If you are a regular XC mountain biker who has a reasonable level of fitness and a good 'can do' attitude then this is the perfect opportunity to improve your form, skills and confidence.
You will be out on the trails typically from 10am to 4pm on the 5 days that you will be riding. But the pace will be up to you. You are on holiday after all!
Skills coaching is provided as a matter of routine by your professionally qualified guide. Whether it's your bike set up, body position or riding technique that is letting you down, you are sure to return home equipped with some hot tips that will help you take your riding to the next level.
This women's mountain biking holiday takes place around the beautiful spa town of Bagnères-de-Luchon in the French Pyrénées
Le Lutin – Luchon
Your base for this women's mountain biking holiday is a relaxed, no frills small hotel with a 'kick off your shoes and make yourself at home' philosophy.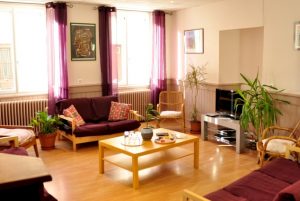 The accommodation is in a quiet location and yet within walking distance of Luchon town centre and also the outdoor swimming pool and Vaporarium.
You've got secure bike storage facilities here as well as bike washing and bike maintenance facilities.
The rooms are basic but practical, some with en suite facilities, others sharing two shower rooms and WCs on the landing.
Russell is renowned for his cooking and his evening meals are legendary. He uses locally sourced produce as much as possible and the three course meals will satisfy even the biggest of appetites.
The breakfast buffet includes cheeses, ham, yoghurt, a variety of cereals, breads, pastries, tea, coffee, hot chocolate …. you get the picture!