The Adventure Creators in the Press
They're talking about us and we're doing a bit of talking about ourselves too!
Below are links to articles and podcasts in which we feature and which give you a deeper insight into our business and philosophy. Enjoy!
Destination Webinars
Short of time? Check out this 5 minute presentation on the Pyrenees that our founder, Penny Walker, did for Destination Webinars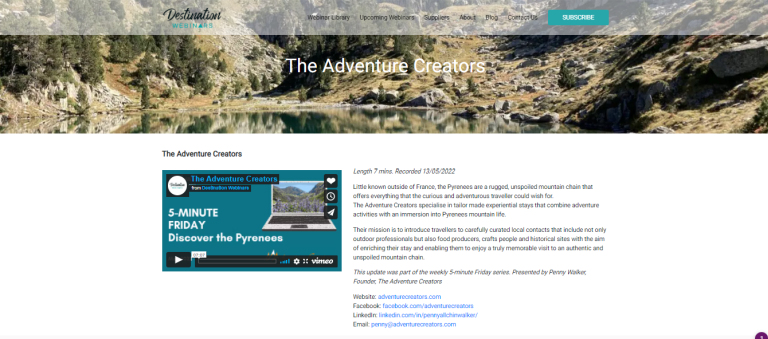 Travel Local
An interview with our founder and an insight into why the Pyrenees mountains should be on every curious traveller's bucketlist.
A podcast episode for Low Season Traveller
A great podcast episode with the lovely Ged from the fabulous Low Season Traveller, where Penny chats about why the Pyrenees mountains are the ideal low season holiday destination.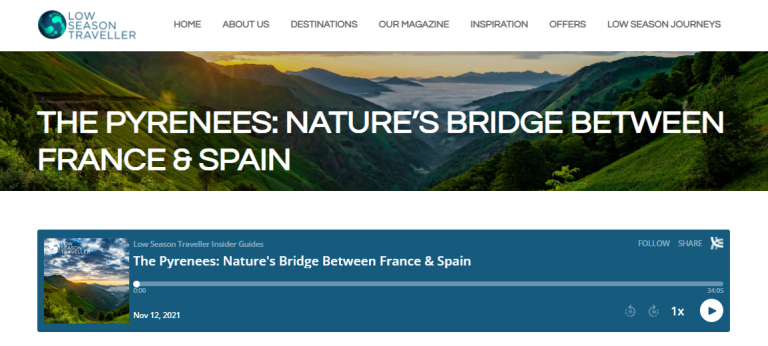 The Travel Companion podcast
Our founder, Penny Walker, chats with Peter de Vries about sustainable adventures in the Pyrenees in this episode of the Travel Companion podcast.

The Action Packed Travel podcast
Peter and Felice chat to Penny about some of her favourite Pyrenees subjects (including the brown bears) in this episode of the Action Packed Travel podcast.
The Thoughtful Traveller podcast
On this episode of Amanda Kendle's excellent podcast, she chats with our founder Penny Walker about the importance of tapping into local knowledge if you're to have the best holiday experience.
The Telegraph – Family pastoral experiences feature
A great feature by Adrian Phillips detailing his family's local experiences discovering pastoral life in the French Pyrenees.
National Geographic Traveller UK
Award winning travel writer Adrian Phillip's account of his pastoral stay in the Pyrenees with us in summer 2020 covers 9 pages of the Jan/Feb 2021 edition of National Geographic Traveller in the UK.
It's beautifully supported by stunning photos taken by photographer extraordinaire Markel Redondo.
Get your hands on a copy or read the online version here.
The iPaper – Human interaction roundup
Thanks to the lovely Sophie Lam for including us in this roundup of trips and adventures to plan this year that bring back human interaction.
It features our Heart of the Pyrenees family adventure holiday which introduces you to the characters and experiences that make the French Pyrenees such a special place for a family holiday.
The Telegraph – Top 40 Escorted Tours
The top 40 tours that will change your mind about escorted trips. Read down to no. 20 in this roundup article and check out our Transhumance horse riding trek in the Ariege Pyrenees
The Guardian – The Perfect Holiday Without Flying
Huge thanks to The Guardian for featuring us in this article which includes all kinds of ideas for those of you who'd rather avoid the carbon footprint that flying incurs.
Amy Elisabeth – Best Yoga and Fitness Retreats for 2020
What a lovely write up on Amy Elisabeth's highly regarded blog about our new Wellness and Adventure Retreat in the Pyrenees.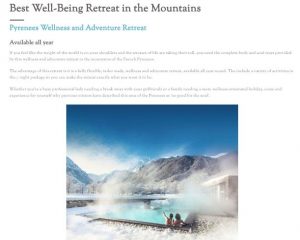 The Guardian – Graham Snowdon's Article
When Graham came down to the Pyrenees with his family for an action-packed multi activity holiday he didn't mention that he was Deputy Editor of Guardian Weekly!
We were over the moon when we learned he'd written this article about his experience. "I had such a good time I decided to write about it!"
The Guardian – Top 20 Family Summer Hols
We were delighted our family multi activity holiday was chosen to be featured in The Guardian's list of Top 20 family summer holidays article.
The Times – Easter Family Adventures
Being featured in The Times travel supplement is always a pleasure.
We were delighted to be featured in their article all about great family adventures you can enjoy over Easter (paywall).
The Times – Best Ski Holidays For Families
Huge thanks again to The Times for featuring our winter family multi activity holiday in their article on the best ski holidays that you can enjoy as a family.
The Times – Group Holidays Feature
Our women's MTB holiday is featured in the Times article on group holidays.
Total Women's Cycling – Wild MTB Holidays
Our women's XC MTB holiday is also featured in Total Women's Cycling's '5 Wild Mountain Bike Holidays' article.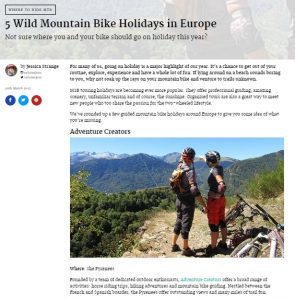 The Telegraph – Best Family holidays in France
It was wonderful to be featured in Catherine Cooper's feature in the Telegraph on the best family holidays you can enjoy in France'.
The Telegraph – Europe's Best Walking Holidays
Our challenging 4 peaks hiking challenge which takes in Pic Aneto, the highest peak in the Pyrenees is included in The Telegraph's feature covering the best walking holidays in France.
The Telegraph – Best Adventure Holidays
To have our bear tracking adventure trip featured in The Telegraph's top 50 article covering some of the greatest adventures on earth was a real honour!
Daily Mail – Hiking Holidays in Europe
We were delighted that our hiking holidays were included in Will Hide's 10 feature on the best hiking holidays in Europe.