European countries have now reopened their internal borders to leisure travellers.
In addition, at the end of June, the UK government is expected to shelve the current quarantine restrictions in favour of air corridors to 'safe' destinations.
This means the barriers to your much anticipated adventure holiday in the Pyrenees are gradually being lifted – hurrah!
However, you're maybe thinking that by flying to your holiday destination you'll be putting yourself and your family at risk of catching the virus.
So it's important to understand what is being done by both the airports and the airlines to keep you safe during your journey to your summer holiday.
Covid-19 safety measures at airports
All airports and airlines have put in place measures to keep you safe when travelling.
The whole experience will initially seem otherworldly and like something out of a science fiction movie but this is the new normal and something we will soon get used to
Measures in place at Heathrow (which I'm sure are the same as in other airports) include the obligatory wearing of a mask from the moment you step inside the terminal building.
It goes without saying that you should keep your mask on until you leave the terminal building at your destination airport.
There are reminders throughout the airport to keep the requisite 2m distance from your fellow travellers as you're going through the departure process.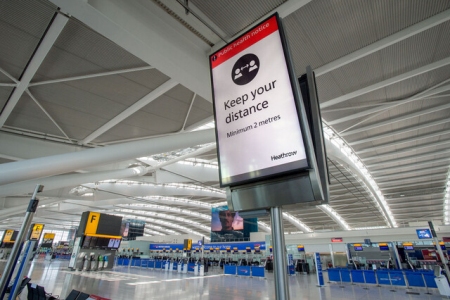 Social distancing should be second nature to you by now so you should barely need the reminder!
At Heathrow, they're trialling temperature screening at the check in area of Terminal 5 which is aimed at reducing the potential transmission of Covid-19.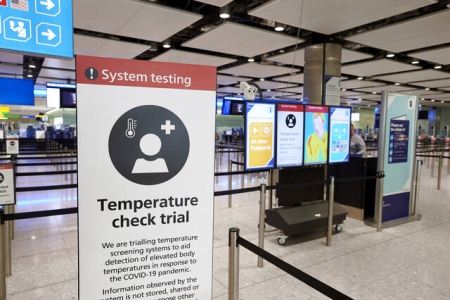 There are boards throughout the airport which explain how this innovative measure works.
Before you leave home, make sure you've installed your airline's app on your phone as this means you can simply scan your boarding pass as you enter departures and security.
As you go through security and place your bags on the conveyor to be scanned, markings on the floor indicate the distance you must keep from the person in front of you.
This again should be second nature to you by now as it's no different to being at a supermarket checkout!
If you make a purchase from a shop, avoid using cash and pay by contactless wherever possible.
What to expect on your flight
Many people are concerned about catching the virus on board the aircraft, mistakenly assuming that we're all breathing the same stale air.
Nothing could be further from the truth! Thanks to the air filtering mechanisms on board modern commercial aircraft, the air that you breath on a flight is cleaner than in most office buildings.
The cabin air is effectively replaced every 3-4 minutes and almost 100% of airborne bacteria and harmful particles are removed in the process.
You can read more about the air filtering system on commercial aircraft in this excellent article.
Many of our guests fly from the UK into Toulouse with Easyjet who have put in place rigorous safety measures.
Every aircraft cabin is subject to a daily disinfection process which provides surface protection from viruses that lasts for at least 24 hours.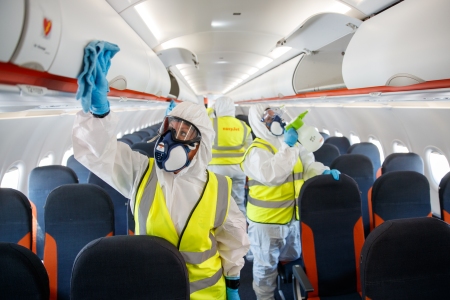 In the course of your flight, all passengers and crew must wear a mask on board at all times and in addition, crew will wear gloves.
Where numbers permit, only members of the same household will occupy a row of seats.
Bring your own snacks for the flight as the usual onboard trolley service has been suspended for the time being.
On arrival and after disembarking from the aircraft, you must be mindful of keeping your distance from fellow travellers as you make your way to baggage collection.
If you need to use a trolley at baggage collection, disinfect the handle with disinfectant wipes that we recommend you carry with you.
The bottom line
The safety measures that have been put in place at airports and by airlines are there to protect you at all stages of the journey to your holiday destination.
Provided you are mindful of them throughout your journey you should be able to enjoy a stress free flight to your holiday destination.