One of the best things about choosing one of our flexible multi activity holidays is that you get the chance to try all kinds of different sporting and adventure activities that you've probably never heard of before, much less tried.
Check out our top picks for action-packed, off-the-wall adventure activities in the Pyrenees that are fab fun for families and individuals alike.
Trotinette aka Offroad Scooter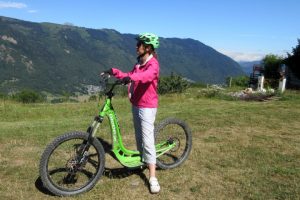 If you're looking for some alternative fun on two wheels then the trotinette will provide it by the bucketload.
This offroad scooter is the next big craze in the Pyrenees and once you've tried it you will understand why.
Groups of mates will love the sensation of letting off the brakes and letting it roll whilst your teenagers will have a blast discovering their limits on the trotinette.
Once you get over the fact that the scooter doesn't have a seat like a mountain bike, it is a surprisingly stable bit of kit thanks to its low centre of gravity.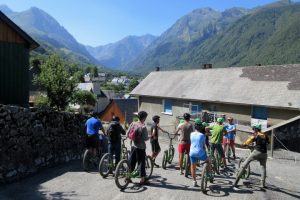 Equipped with front shock absorbers and either hydraulic or cable disc brakes depending on where you do the activity, the trotinette goes anywhere that you can go on a mountain bike.
However, as the trotinette doesn't have pedals, only descent routes will generally be taken.
The paths and tracks that descend from the local ski resorts back down to the valley are ideal for this activity.
On an organised trotinette outing you'll be transferred by minibus up to the start point.
There, you'll be allocated your offroad scooter and your guide will give you a thorough briefing on the techniques needed to safely navigate the descent route.
Stand up straight on the scooter, have two fingers on the brake levers at all times, apply steady pressure to both front and back brakes at the same time and look ahead to where you want to go when you come to a corner.
Remember these top technique tips and you'll have a blast!
There will be plenty of stops on the descent so make sure your camera battery is fully charged for those all important mountain view photo opportunities.
The trotinette/offroad scooter activity is just one of the action-packed fun activities you can do throughout the summer on our summer multi activity holiday.
Hydrospeed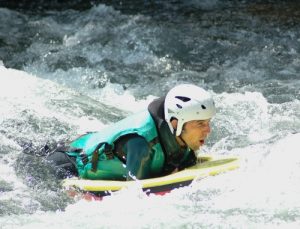 Are you a competent swimmer looking for a change to rafting and river kayaking? Fancy having a bash at a riversport that will get the adrenalin pumping?
If your answer is 'hell yeah!' then hydrospeed (also known as riverboarding or even boogieboarding in some parts of the world) is quite simply the most fun that you can have on the river.
It's an activity that is not yet widely known but one that is rapidly gaining in popularity and with good reason.
The riverboard is an ultra lightweight piece of kit which is available in many shapes and designs.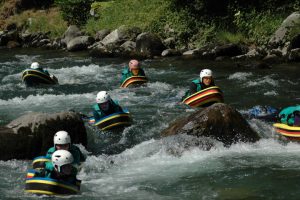 The most commonly used ones in the Pyrenees are made from a dense foam material with handles at the front.
On our hydrospeed descents of the local rivers you will always be accompanied by a guide in a raft or a kayak who is there to ensure you don't get into difficulty.
You will be fitted out with all of the essential equipment which will include a wetsuit, helmet, life jacket and flippers for your feet.
The technique is to lie face down on the board, holding on to the handles and steering with your flippers and bodyweight as you negotiate the river currents and rocky obstacles along the way.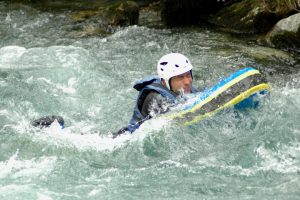 In May and June, the snowmelt from the high mountains swells the rivers making the springtime the most exciting season for riversports such as hydrospeed.
However, hydrospeed is available on selected rivers right through to October provided the water levels are high enough.
The Adventure Creators work closely with the local riversports companies and are therefore able to advise you whether conditions are suitable for this fun-packed adventure activity to take place.
Riverboarding/hydrospeed is available as an option if you select not only our tailor made summer multi activity holiday option but any of our other custom adventure trips too.
Airboarding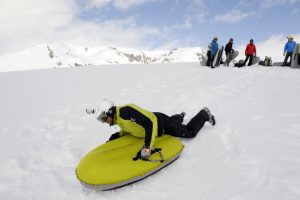 Skiing and snowboarding are just so last century.
There's now a new craze sweeping the mountains of the Pyrenees and that craze is airboarding.
No, I'm not surprised you've never heard of it. So let me enlighten you!
The airboard is quite simply sledging for the adrenalin junkie
The name is something of a mis-nomer if we're honest as the airboard is not a board at all.
It is in fact an inflateable kevlar-coated cushion on which you lie face down.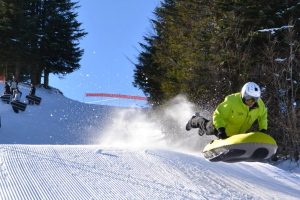 The idea is that you grip the handles on top of the cushion and hurl yourself down a snowy slope, steering with your bodyweight and with your feet.
In perfect snow conditions you can pick up some serious speed on the descent.
Go on challenge your mates to a race and see who can get down the fastest!
Airboarding is a guided activity that takes place at the local ski resorts, either on a dedicated airboard slope or on a selected ski slope once the station has closed.
However, some of the guides that we work with in the Pyrenees have taken airboarding one step further and offer a full day activity called Freeride Airboard.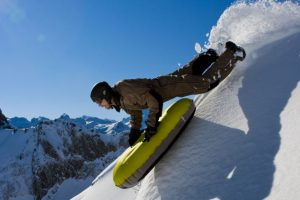 This comprises a snowshoe ascent of a suitable hill across the border in the Spanish Pyrenees followed by a thrilling airboard descent back down.
You will need a good level of fitness if you're going to enjoy this freeride airboard option.
The snowshoe up to the highpoint can be quite testing if the snow is deep and fresh and you will be carrying your deflated airboard and pump in your pack.
The airboard options are available not only if you choose our tailor made winter multi activity holiday but also our epic winter short break option.
If you'd like to know what the airboarding experience is really like, don't just take our word for it. Check out adventure bloggers Cathy and Frank's write up on their top-rated adventure blog to understand why the airboard will become your next winter obsession!
Sharing is caring. If you've enjoyed this latest blog post then do share.