A stress free family adventure holiday in the Pyrenees
INCLUDED
Flexible accommodation
A tailor made itinerary
Flexible activity points
Our personal attention
NOT INCLUDED
Flights
Car hire
Welcome to our 5* rated (see reviews below), super flexible, stress free, tailor made family multi activity holiday, as featured in the Guardian!
It's the perfect solution for busy, time-challenged families who want a mix of fun adventures and precious family bonding time on their annual summer holiday.
Read what goes on behind the scenes to make this your 'best family holiday EVER'!
About the activities
The range of outdoor adventure activities available in the central Pyrenees is huge and there really is something for everybody.
The fun starts in May when the river sports season kicks off. Adrenaline junkies can challenge themselves rafting, canoeing, kayaking, river-boarding and canyoning in the snow melt swollen rivers that flow down from the high mountains.
Then there's rock climbing, via ferrata, off-road scooter, caving and paragliding and all of the following fun-filled activities to enjoy. See the Activity Points tab above for which activities are available in what months.
Night in a refuge
Caving
Huskie Activities
River Boarding
River Rafting
Tree Climbing
Stand Up Paddleboarding
Mountain Biking
Bear Experiences
High Ropes Adventures
Lake Kayaking
Paragliding
River Walking
Offroad Scooter
Via Ferrata
Canyoning
Horse Riding
Pedalos
River Kayaking
Rock Climbing
Offroad Segway
Walking Experiences
Choose a week long multi activity adventure holiday and we'll usually include 9 activity points in the package price. You can exchange these for a whole range of exciting activities – See the tab above. You think you'll need more points? No problem, you can purchase additional points if you wish.
Whether you're a family looking for a fun-filled summer multi activity holiday with your adventurous children or a group of mates wanting an action-packed adventure short break together, we'd be delighted to create a fully flexible multi activity holiday that ticks all your boxes.
What's more, you don't even have to all do the same activities. That's the beauty of our fully flexible activity points system. Pool the points and share them out amongst the family so everybody is happy.
Accommodation
Unlike many of our competitors, we won't tie you into any particular accommodation. After all, everybody has different tastes and different budgets.
Whether you'd prefer to stay in a mobile home or chalet on a 4* campsite, a self-catering property in a mountainside hamlet, a cosy B&B or even a 3* hotel in town, our tailor made family adventure holiday is designed around you.
We'll ask you to provide us with your preferences on the enquiry form which is on the right hand side of this page on desktop but keep scrolling for the form on mobile. We'll get back to you pronto with some accommodation options and prices for your holiday.
Additional services
Not only do we do all of the organisation of your family adventure holiday in the Pyrenees but we also make recommendations on other local experiences that we think you may enjoy.
We can arrange for you to visit the family farm at which goats cheese is produced and where you can see the milking process and taste the cheeses too.
We'll give you information about the falconry centre where you can see amazing birds of prey stretching their wings and we'll also introduce you to local specialities such as tree cake which you can see being made.
We'll make recommendations for the best family friendly restaurants at which you'll eat local dishes prepared with love from local and seasonal produce.
To top it all, an on site holiday manager is available throughout your family adventure holiday to ensure you really do have the best family holiday ever. It's all part of our 5* rated service!
Summer Multi Activity Holiday Points
Choose a 7 night multi activity family adventure holiday and we'll include 9 activity points per person in your package. If you book a 2 week holiday we will include 14 points. If you're looking for a short break or long weekend then we'll include anything from 4 to 6 points per person.
You can exchange those points for a whole host of fun and action-packed activities which we will arrange into your own personal action-packed family adventure holiday!
You don't need to choose your activities straight away. Take your time and let us know your choices 6 weeks before your holiday. You don't even have to all choose the same activities. Pool your points and decide how you'd like to split them up between your family/group members. How's that for flexibility!
A Night in a Refuge
Enjoy a good hike up to a mountain refuge where you'll be rewarded with a hot meal and a bed for the night, with maybe a spot of wild swimming too!
We have a few catered refuge options which will involve different amounts of hiking so will select the most appropriate for you.
Available mid  June to mid September
Adult Half Board
2 Points
The half board option is for dinner, bed and breakfast. Dinner is prepared by the refuge 'gardiens' from local products and is a convivial affair taken with other hikers in the dining room.

Facilities are naturally basic up in the mountains. You'll sleep in dormitory style accommodation and don't expect hot showers!

Child 8-18 HB
1.5 Points
Children benefit from a reduced half board rate.

Your children must be comfortable with hiking up hills.

Adult Full Board
2.5 Points
With the full board option you will get a picnic for the next day as well as dinner, bed and breakfast. This is the best option if you are planning to spend the day hiking in the mountains around the refuge
Child 8-18 FB
2 Points
Children benefit from a reduced full board rate when they stay in a catered mountain refuge.
Bear Experiences
Around 50 brown bears are now living in the mountains of the central Pyrenees.
We work with the local bear experts to offer you the opportunity to learn all about these fascinating animals, including an option to safely go deep into bear territory to find their tracks and collect data for scientific analysis!
Available May to September
Bear Tracking Experience
3 Points
A full day from 07h30-17h00 in the company of a local qualified and English-speaking bear expert, when you'll head deep into bear territory to look for their tracks and signs of their presence.

The hiking is rough and includes 700m of climbing so good fitness is required on what will be a demanding but rewarding outing.

This is a unique hands on experience on which you'll learn about the bears direct from the local experts.

Points are based on 3 people.

Suitable for fit, active children aged 12+.

1/2 Day Learn About the Bears
1 Point
A morning (09h-13h30) in the company of a local bear expert on gentler terrain that the bears have been known to frequent.

You'll learn about the reintroduction of the bears to the Pyrenees, about their habitat, their eating habits, reproduction, hibernation and the efforts being made to ensure man and bear can live in harmony.

The walking is not technically difficult although there are some steep sections, so bring your hiking legs.

This experience is suitable for children aged 7+.
Canyoning
Canyoning options range from short river gorges to introduce you to the sport right up to day long technical canyoning descents for adults only.
You'll obviously need to know how to swim and, for the bigger canyons, previous experience of rope work such as abseiling is an advantage.
Available May to early September
Introduction to Canyoning
1.5 Points
The introductory canyoning descents take no longer than 1h30 and include natural slides, short abseils as well as jumps into rock pools up to 2m deep.

There are always options for those who are not quite so brave, but I think you will surprise yourself!

This activity is suitable for children aged 7+ who are able to swim.

1/2 Day  Canyoning
2 Points
A descent of the lower section of the Oô river gorge near Luchon includes a good stiff 20 minute walk up to to the jump in point.

The river gorge has numerous abseils, a Tyrolean traverse, slides and jumps into pools from heights of between 4 and 9 metres. All this will take you between 2h and 2h30.

This canyoning experience is suitable for children aged 12+.

1 Day Canyoning in Spain
2.5 Points
Enjoy a full day out and drive over the border into Spain to discover the fabulous Miraval limestone river gorge. The beautiful drive there will take around 1h45 from Luchon but it's all part of the adventure!

The canyoning descent is open to all abilities as none of the numerous jumps (some from a height of 10m!) and slides are obligatory.

There's no abseiling or rope work so younger children will enjoy the experience provided they are good swimmers. There is however plenty to challenge older children as they make their way down river!

This canyoning experience is open to children aged 10+.

1 Day Canyoning in France
2.5 Points
You need to have good fitness for this demanding full descent of the Oô river gorge near Luchon, as you'll spend 3-4 hours making your way down the river with your expert guide.

The outing starts with an easy 1h walk up a track and then path to the picturesque Oô lake where you'll enjoy a relaxed picnic lunch before getting into your wetsuits to start your descent.

Abseils down waterfalls, jumps and slides into deep pools and even Tyroleans, this comprehensive canyoning experience is reserved for those aged 16+ who are fit and confident in the water.
Caving
Explore the fantastic underground world of the limestone cave systems in the foothills of the Pyrenees.
Marvel at stalactites and stalagmites and a whole range of limestone features as well as surprising animal and plant life in the caves.
Available May to September
1/2 Day Guided Intro to Caving
1.5 Points
Discover fantastical limestone formations, underground streams and rivers and otherworldly creatures, sure to capture the imagination of adults and children alike.

This introduction to caving is open to everybody, has no technical difficulties and is of course practicable in all weathers!

The only proviso is that larger people may struggle with some of the narrow passages.

This activity is suitable for children aged 5+.
High Ropes Adventures
From a whole day at the extensive local adventure park with its huge variety of ground and aerial based activities to a session in a river gorge on a guided, graded circuit of crossings, via ferrata and tyroleans, we have some great options in the area for families with kids from as young as 3!
Contact us for availability periods
1 Day Pass – Pyr Hô Adventure Park
1 Point
With over 220 aerial and 20 ground based activities the adventure park is a great day out for all.

Tyrolean traverses, cargo nets, pedal cart and biking circuits, giant slides, cable bridges, climbing… whichever course you do, the activities get progressively more difficult in order to continually challenge you.

For a small extra charge, the bravest may choose to the free jump onto the massive inflatable mattress or fling yourself down the giant Tyrolean!

**  FOR CHILDREN UNDER 16 AN ADULT MUST BE PRESENT**

2h Guided Session at Moudang
1.5 Points
If you're staying in the Louron Valley it's a 30 min drive to this adventure course at Aragnouet where there are 3 guided departures a day in peak season.

The three circuits are graded Blue, Red and Black with the easiest being suitable for children 8+ and the hardest being a challenging circuit which includes a big Tarzan rope swing, 800m of tyrolean up to 40m above the gorge and gorge crossings up to 40m long. Strength and courage required!
Horse Riding
Horse riding is a lovely way to see something of the Pyrenees foothills and mountains. Choose from an introductory 2h ride alongside rivers and through valley meadows or maybe a longer ride to explore the higher mountains and cols. You'll learn about the local breeds of horse and the basics of looking after them too.
Available April to October
Horse Ride for Novices
2.5 Points
This is the perfect introduction to horse riding.

Your instructor will introduce you to the basic skills of horse riding such as preparing your horse for the ride and putting on the harness and saddle.

You'll then head down the valley for a picturesque ride on flat tracks and trails before returning to the riding school where you'll take off the tack and give your horse a brush before releasing them back outside.

The experience will take between 2h and 2h30.

Suitable for children aged 7+.

Horse Ride for Non-Novices
3 Points
If you have previous horse riding experience and are happy trotting and cantering, then we have a couple of stables at which you can enjoy a ride out on some of the quiet paths and tracks of the Pyrenees mountains and foothills with a riding instructor.

Suitable for children aged 12+.

Full Day Horse Riding Experience
4.5 Points
Experienced horse riders who are already used to long hours in the saddle will love these day treks which provide a great opportunity to discover the full beauty of the Pyrenees foothills and mountains.

With 6+ hours in the saddle, this is a grand day out. You'll be accompanied by an experienced local guide and will head off the beaten track along little explored paths, up cooling rivers and onto mountain ridges. It's a wonderful horse riding experience.

Note that min numbers may be required for these points to apply.
Huskie Activities
Who says huskies are just for the winter!
These dogs are full of energy and need outings year round in order to maintain their health and fitness
You can be a part of this by going on a small group hike in the mountains with the dogs (cani rando), riding in an adapted sledge on wheels (cani kart) or even an offroad scooter outing with the dogs (cani trott)!
Available May to October
1/2 Day Cani-Rando
1.5 Points
On this guided walk in the mountain environment around the Col de Peyragudes, you'll learn all about the huskie breed, their pack behaviour and also the different breeds of huskies.

The dog's elastic lead will be attached to a belt that you'll wear around your waist and you'll walk hands free.

You're sure to appreciate the dog's efforts as you're aided up the inclines!

Open to all ages who enjoy walking.

30 Minute Cani-Kart
1.5 Points
This experience starts with an introduction to the pack of huskies and explanation about their life and habits which you're sure to find fascinating.

10-12 dogs will then be attached to an adapted wheeled cart which can take up to 2 adults and 2 children whose total weight must not exceed 200 kgs.

The musher will then drive the dogs on a 30 minute excursion on the mountain tracks up at 1450m altitude.

1.5 points pp based on 4 people (2 adults and 2 children under 12 years).
2 points pp for 3 people.

For families of 5 or more, 2 carts will be required and 2 points per person will apply.

1.5h Cani-trott
3.5 Points
A unique experience with the huskies!

With four huskies putting in the effort you won't have to do any work on your offroad tricycle scooter as you spend 1h30 exploring the tracks and trails around the col de Peyragudes in the company of your expert instructor.

Suitable for children aged 14+.
Lake Kayaking
Hire a 1 to 3 person kayak and spend a couple of hours on the stunning Lac de Génos in the Louron Valley surrounded by breath-taking views of the high mountains.
The boats are unsinkable and easy to manoeuvre, so take your time and paddle as far as you wish!
Available July and August
1.5h Single Person Canoe Kayak Outing
1 Point
Rather not share your craft with another member of the family? Then choose the individual kayak and paddle at your own pace.

Suitable for children aged 10+.

1.5h Two or Three Person Kayak Outing
1 Point Total
Hire a 2 or 3 person canoe and share the paddling.

Suitable for children aged 5+.

Note points are for the kayak and not per person.
Pedalos
What family doesn't enjoy mucking about on a lake in a pedalo! There is space for up to four people in these fun craft.
Take it in turns to pedal and see how long it takes you to reach the end of the  beautiful Lac de Génos at Loudenvielle!
Available July and August
1h30 Pedalo Hire
1 Point
Enjoy some family time pedalling the pedalo on the beautiful lake at Loudenvielle.

The points are per pedalo and not per person

Children from 5 years of age can enjoy this activity. Life jackets are provided and are obligatory for children under 8 years.
Riverboarding
Riverboarding is a fun riversport for confident swimmers.
It can be a challenging and adrenalin-fuelled activity, especially in early summer when the rivers are super-charged with snow melt!
Available June to August
Intro to Riverboarding
2 Points
The introduction to riverboarding session is great fun for confident swimmers. The descent lasts for approx 1h30 and may include some small weirs and mini rapids that form where the river narrows.

This activity is suitable for children aged 14+ who have good upper body strength.

1/2 day Riverboarding Descent – Bossost in Spain
3 Points
For maximum adrenalin, your descent of the river Garonne from Bossost in Spain will be timed to coincide with the release of water from the hydroelectric reservoirs up river. Hold onto your riverboard and go with the flow!

This descent is for strong, confident swimmers aged 15+ who ideally have previous river-boarding experience and are capable of withstanding a fairly sustained effort for the duration of the descent.
Paragliding
Spectacular views are guaranteed on the tandem paragliding experiences although flights are obviously subject to weather conditions.
Available May to September
Tandem Paragliding
4 Points
We have a couple of take off sites for the paragliding experience. One is the Superbagneres ski station above Luchon and the other from above the Col d'Azet above the stunning Louron valley.

Both options will give you some of the most dramatic and spectacular views of the high mountains. You'll have around 20 minutes in the air.

The tandem paragliding experience is open to all ages from 5+.

Learn to Paraglide Experience
5.5 Points
A 30-40 minute flight learning basic paragliding skills
River Kayaking
Kayaking on the picturesque Garonne river is a lovely way to spend a couple of hours.
Choose a 1 or 2 person canoe kayak and then after a briefing from your instructor you'll set off down the river. Stop off en route for a picnic!
Available July and August
2h River Kayaking
1 Point for a single
1 Point pp for 2 person craft
On this self-guided river kayaking experience you'll paddle on the Garonne river from the foothills village of Valcabrère through to Montrejeau.

It's a lovely stretch of river, not perfectly flat and with a few interesting faster, more turbulent sections.

The kayaks are un-sinkable and self-emptying should water get in.

You are free to stop off en route down the river for a picnic lunch before arriving at the end point from where the minibus will pick you up and return you to base.

Individual kayaks are 1 point each. A two person canoe is 1 point person.

Children over 12 years can hire a single person kayak.

The river kayaking experience is suitable for children aged 8+
River Rafting
River rafting is fantastic fun for families and also groups of mates, especially in the springtime when the snowmelt swells the rivers.
In the peak summer months water releases from hydroelectric facilities make for action-packed descents on certain sections of river!
Available mid May to end of August
1/2 day Rafting or Inflatable Canoe
2 Points
An outing on the Garonne river which flows down from the Aran Valley in Spain is great fun for all the family.

From sporting descents that are timed to coincide with releases from up-river hydroelectric facilities to gentler outings further down river or on the calmer Neste river are all possible.

We will advise you on the best option for your family.

Rafting is suitable for children aged 5+
River Walking
River walking is a great way to cool off in the heat of the summer months.
Your guide will choose the river according to conditions on the day.
Available July and August
1/2 Day River Walking Experience
1 Point
Your local guide will select the best river course for your outing taking into account water levels and the group composition. You can expect to be in the river for around 2h30.

The points indicated apply for 4 or more people. For smaller groups, the activity will be 1.5 points.

This activity is suitable for children aged 7+ who can swim.

Young children will be provided with a wetsuit to wear and you'll all be provided with a pair of Neoprene 'socks' to protect your feet in your trainers.
Rock Climbing
Rock climbing is a fantastic challenge for adults and children alike.
Attached to a rope you'll learn to solve the puzzle of working your way up a rock face using hand and foot placements before being lowered off from the top.
Available May to October
1/2 Day Guided Rock Climbing
1.5 Points
On the 1/2 day activity you'll learn all about the equipment needed to climb up a rock face and how to tie the specific knots that will attach the rope to your harness.

You'll learn how to belay for each other and then enjoy the challenge of making your way up the rock using natural hand and foot holds.

You'll get a huge sense of achievement when you reach the top and will soon forget all about how high up you are.

The points indicated apply for 3 or more people. For 2 people, 2.5 points per person will

Rock climbing is suitable for children aged 6+.
Tree Climbing
Go tree climbing on your multi activity adventure holiday and rediscover your inner little monkey! Great fun for all the family.
Available July and August
1/2 Day Guided Tree Climbing
1 Point
On this group activity you'll learn basic rock climbing techniques and apply them as you climb up into the trees. You'll be securely attached to a rope at all times.

Play on the Tyrolean traverse, challenge your balance on the slackline in the tree canopy, let yourself go on the rope swing. Kids young and old will love tree climbing!

The tree climbing experience is suitable for children aged 6+
Offroad Scooter
The offroad scooter is a great fun guided activity. It's a cross between a scooter and a mountain bike and may be equipped with suspension for a smoother ride.
You'll explore the paths and tracks that descend from either one of the local ski resorts or from a picturesque mountain col on a fun half day with the family.
Available May to October
2h Offroad Scooter
2 Points
From your meeting point in the valley floor you'll head up to the starting point for your offroad scooter descent. You'll be thoroughly briefed on how to handle the scooter but don't worry, it isn't difficult, although it will feel strange at first!

You'll then ride back down to the valley floor on road, paths and tracks, stopping to take in the views as you go.

Helmets will be provided by your guide.

The offroad scooter experience is suitable for children who are over 135cm in height and who are ideally comfortable on a bike. If they aren't then they most likely won't enjoy the offroad scootering experience!
Offroad Segway
The all-terrain Segway is a one-person self-stabilized electric scooter with two parallel wheels which works via a system of very sophisticated gyroscopes and sensors to give you perfect balance. It's really easy to learn!
The offroad Segways have chunky tyres for great offroad grip.  You can even go uphill with no effort at all!
You need to weigh a minimum of 45kgs to safely use the Segway so this activity is not open to younger children.
Available May to October
3h Offroad Segway
3 Points
This half day outing is a great way to explore the fabulous tracks that go off from the picturesque Port de Bales with it's breathtaking views of the high mountains including Pic Aneto, the highest peak in the Pyrenees.

You'll meet your instructor at the parking area where he'll give you a briefing on how to use the Segway using your body position to move forwards and backwards.

Helmets are provided.

This activity is suitable for children aged 13+ who weigh over 45kgs.
Stand Up Paddleboarding 
SUP is an increasingly popular activity and when it's done somewhere as jaw-droppingly beautiful as the Lac de Génos in the Louron Valley it's easy to understand why.
A couple of hours spent paddling on the lake on a beautiful summer's day is good for body and soul, no doubt about it!
Available July and August
1h30 Stand Up Paddleboard
1 Point
You can paddleboard standing up, on your knees or even sitting down with your legs in the water if you wish. There are no rules.

The boards provided are very stable and suitable for novices.

Life jackets are provided.

The SUP is open to children aged 12+.
Via Ferrata
Via ferrata means iron path in Italian. It is a mountain climbing route which consists of anchors such as steel cables and rungs, steps and wooden walkways. Wearing a rock climbing harness, you affix yourself to the guide cable and make your way up and along the rock face.
Via ferrata is a great adventure for those with a head for heights. It's a real challenge suitable for children of 12+. The incredible views and sense of achievement you will get on completing the route makes the effort worthwhile.
Available July and August
Via Ferrata Cierp Gaud
1 Point
The via ferrata course at Cierp Gaud can be done self-guided provided there at least 2 of you and will take around 2h to complete.

It's a real challenge which you should not underestimate, but a great choice for anybody wanting to have an adventure in a beautiful setting with great views.

An instructor will provide you with the necessary safety equipment and brief you on the techniques required to complete the via ferrata circuit. Then it's over to you!

This via ferrata is suitable for children aged 12+.

Guided Via Ferrata
3 Points
You will need a certain level of fitness and definitely a head for heights for this guided via ferrata across the border in the Aran valley in Spain, 45 mins from Luchon.

It involves a good walk in and may take up to 3h to complete. The course has two sections and there is a get out after the first one for those who don't want to push themselves further.

Minimum numbers may be required for the points indicated to apply.

This via ferrata is suitable for children aged 14+.
Walking Experiences
Explore the beauty and grandeur of the Pyrenees mountains on a self-guided or guided walk, discovering the rich mountain heritage, culture, flora and fauna of the mountain environment.
There is walking for all abilities and the mountain views will take your breath away.
Available April to October
1 Day Guided Mountain Walking
3 Points
A full day of mountain hiking, adapted to your level, in the company of an expert local guide is the best way to explore off the beaten path and to discover the remarkable flora and fauna of the central French Pyrenees.

Discover the environment of the brown bear in the Pyrenees, see chamois and red deer and maybe even catch a glimpse of the Lammergeier or the Egyptian vulture in the skies above you.

A minimum of 3 people are required for the points indicated to apply.

Family Wildlife Walk
2 Points
A morning walk in the mountains with an expert local guide to spot the whistling marmots and other mountain wildlife.

Look to the skies and you may be lucky enough to spot the rarest vulture in Europe, the bearded vulture, and maybe even eagles too!

Suitable for children aged 6+.

Meet the Shepherd
1.5 Points Adults

1 Point -13 yrs

An easy guided morning walk to mountain pastures for an interesting morning with a local shepherd.

Learn about his life in the mountains, how he looks after his flock and what he thinks about the brown bears that roam the surrounding mountainsides.

Suitable for children aged 8+.
Guided Mountain Biking
In the company of an expert local mountain biking guide you won't need to worry about getting lost!
From easy family friendly MTB descents (but not for complete beginners) to full day enduro style mountain biking extravaganzas, we can offer guided mountain biking experiences for all abilities.
2h Easy Guided MTB
2 Points
Your MTB guide will take you on some easy paths, tracks and trails from the Peyragudes ski resort back down to the Louron Valley. Great views assured!

Suitable for children aged 8+. Participants must have previous mountain biking experience.

3h Enduro Descent
3.5 Points
From the Peyragudes ski resort you can look forward to around 1400m of descent back down to the Louron valley.

Suitable for children aged 14+ who're intermediate level mountain bikers and not afraid of steep terrain. Some of the riding does require good technical skills.

3h E-MTB Experience
4 Points
Let the battery of the e-MTB take the effort out of the climbs on this 3h guided outing which will enable you to discover stunning mountain scenery and charming mountain villages in and around the Louron valley.

Suitable for children aged 12+ who have previous mountain biking experience.
Self-Guided Mountain Biking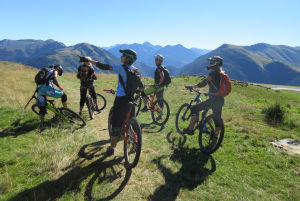 If you'd prefer to explore the numerous way-marked MTB tracks and trails under your own steam then hiring a bike is your best option.
From rigid hardtails to full suspension enduro and even electric mountain bikes and children's bikes, our bike hire partners have a bike for you. We'll throw in route advice and maps of the local trails so the fun dial is set to max!
1/2 Day Hardtail MTB Hire
1.5 points
Hire a hardtail XC mountain bike for half a day and explore the way-marked and graded tracks and trails of the beautiful Louron valley.

There are trails in the Louron valley suitable for children as young as 6 years.

1 Day Hardtail MTB Hire
2.5 Points
Same as above but a full day's hire.
1 Day Full Suspension MTB Hire
3 Points
The full suspension mountain bikes are a whole different experience if you are keen to explore the more technical singletrack of the area. Only advised for experienced mountain bikers.
1 Day Full Suspension e-MTB Hire
3 Points
Go higher and further thanks to the battery on your full suss e-MTB which will swallow those climbs!
1/2 Day Full Suspension e-MTB Hire
2.5 Points
As above but for half a day's hire
1 Day Children's e-MTB hire
2.5 Points
Electric mountain bikes are available for children aged 10+. They'll soon be hooked!
1 Day Adult Hybrid Bike Hire
1.5 Points
Hire a hybrid bike and follow the marked cycle route all the way down the valley, stopping for a picnic by the river Garonne along the way.

If you don't fancy the ride back, a transfer can be arranged for a small extra fee.

1 Day Children's Hybrid Bike Hire
1 Point
You can hire a children's bike with 20″ or 24″ wheels too.