A stay in a refuge in the Pyrenees mountains is one of those life experiences that will stay with you forever.
What's the big deal?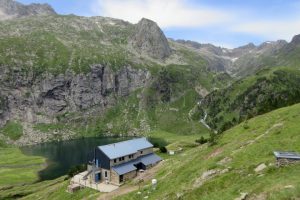 Imagine being up in the high mountains, surrounded by breathtaking beauty with nothing but the sound of cow (and horse) bells and bird song to disturb your contemplation.
It's an environment that invites the relaxation of those tight shoulders and the shedding of the cares of the world.
Stay in a mountain refuge and let the mountain environment work its magic.
The mountain refuge experience is also the opportunity to connect with fellow mountain-lovers and outdoor enthusiasts from all over the world.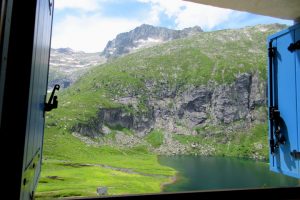 A stay in a mountain refuge is where language barriers disappear and life long friendships may be forged. A common love for the mountains is a powerful thing.
There are numerous refuges scattered throughout the Pyrenees mountains at various altitudes and with varying degrees of accessibility.
But the one thing all of them have in common is their invariably stunning mountain settings.
If you're in need of some serious time out then a stay in a mountain refuge could be just the ticket.
Staying in a mountain refuge – the essentials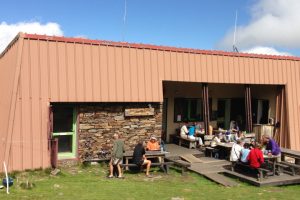 Firstly and most importantly it's important to understand that a mountain refuge is not a hotel.
Living arrangements are communal with dormitory sleeping arrangements and it's the guardian who will allocate you your bunk
There is no mains electricity, no mains water, no refuse collection and no internet. There is also generally no 'phone signal at a mountain refuge.
You need a digital detox? You've got it!
Mountain refuges will have an area in which you will be asked to remove your hiking books and replace them instead with the Crocs that are provided.
As living arrangements are communal, consideration for your fellow refuge dweller and for the guardian' is essential.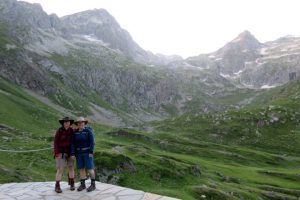 Drunkeness is frowned upon and noise after 21h30 likewise.
Many people staying in mountain refuges may be up at the crack of dawn for an alpine ascent of a local peak and need their sleep!
As there is no refuse collection, generate as little waste as possible and take it away with you when you leave.
A hand clearing up after dinner and a wipe down of the tables is always appreciated by the guardian.
Facilities provided by a mountain refuge
Water in mountain refuges is generally supplied from springs and rainwater collection. Use it sparingly.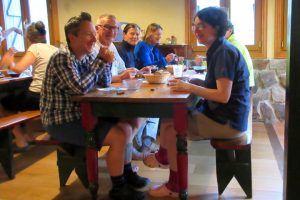 Some mountain refuges may have the luxury of solar-heated hot water but many will just have cold water flowing from the taps.
Where hot water and <gasp> a shower is available, keep it short as you won't be the only one needing to use the precious supplies.
The dormitory rooms contain sleeping platforms up to 3 levels high on which individual mattresses, up to five of them, are laid side by side.
We always advise people to take earplugs as there's always the risk that there'll be a snorer in your bunk room!
A base sheet, pillow and blanket/duvet will be provided but you should take your own sleeping bag liner.
Food in the mountain refuges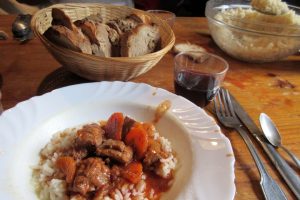 Evening meals are a 'sit down at the communal table and get stuck in' convivial occasion at which requests for special diets are generally not met with a positive reply.
The type of food provided will vary from refuge to refuge.
At some, dinner may be a basic but hearty affair comprised of a starter (maybe a 'potage' or soup) followed by a meaty casserole, then some cheese and a dessert.
There'll always be plenty of 'stodge' such as bread or rice to fill you up and wine or beer will usually be available.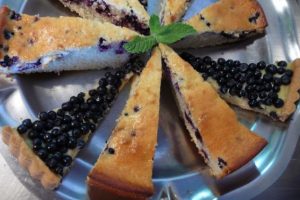 Other mountain refuges go the extra mile and delight in creating the most delicious mountain fayre from foraged items such as bilberries and wild raspberries.
They may make their own cordials and liqueurs as well as scrumptious homemade tarts and desserts.
Food provisions may be brought up from the valley by mule or may be flown in by helicopter.
They will invariably include local hams and cheeses and other such scrummyness .
We know which refuges in the area do the best food and will make recommendations based on where you will be based for your adventures.
How you can enjoy the mountain refuge experience
We are delighted to collaborate with all of the guarded mountain refuges in the area.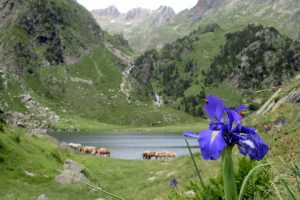 If we are creating a custom adventure trip for you which includes multi activities and you would like the night in a refuge experience we will make all of the necessary arrangements for you.
Those of you who have booked one of our multi day hiking holidays in the high mountains of the French and Spanish Pyrenees will already be looking forward to the mountain refuge experience.
Likewise, book our ski touring adventure to the highest peak in the Pyrenees this winter and you'll enjoy some of the finest mountain refuges that the area has to offer.
Sharing is caring. If you've enjoyed this article please Pin the following image;