It really is quite surprising just how much fun you can have in the Pyrenees mountains on a family adventure holiday with young children!
Very young children can enjoy a whole range of activities in this beautiful adventure playground. Here are our top picks.
Hiking with a donkey on your family adventure holiday
Donkeys are such adorable creatures and perfectly suited to carrying light loads.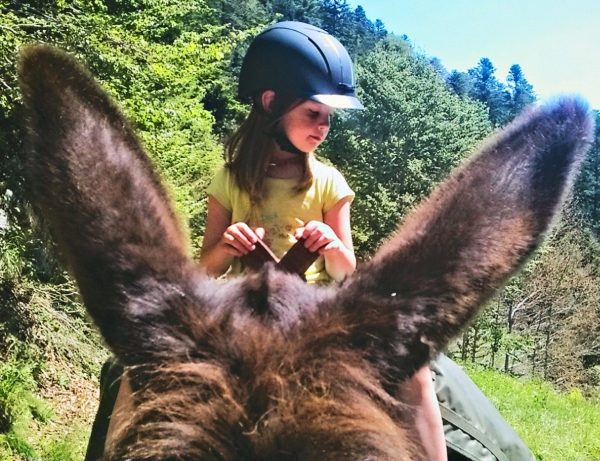 Hire a donkey through one of our activity partners and enjoy a full or a half day trek to a mountain cabane.
There, soak up those endless mountain views whilst tucking into a picnic that you've taken with you. Be sure to take a carrot or two for your donkey!
Mum and dad and older siblings will enjoy the undemanding hike whilst the youngest can jump into the saddle when they get tired.
Route information and a map are provided and you can pre-order a packed lunch made from delicious local products.
A day at the adventure park
One of the local adventure parks brilliantly caters for kids as young as 3 yrs.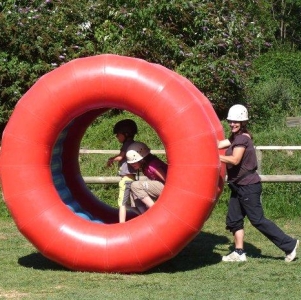 A day here is understandably one of the most popular choices on our family multi activity holiday.
They offer numerous ground and aerial based activity circuits that are graded for all ages.
Activities for the smalls include a balance bike circuit, trampolines, a giant inflatable tyre, pedal kart obstacle course, giant toboggans and a barefoot circuit to discover a whole world of new sensations.
Older children can challenge themselves on rope bridges, via ferrata and tyrolean traverses too.
There's a cafe on site too which offers food and drinks or you can enjoy your own picnic in one of the dedicated picnic areas.
A day at the adventure park really is fantastic fun for the whole family.
Bike riding options for families with young children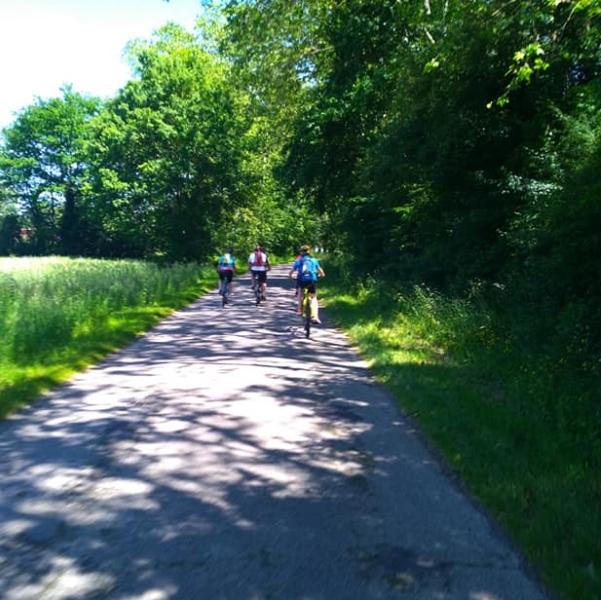 One of our bike hire partners has all terrain bikes with 20″ or 24″ wheels available which are ideal for younger children who already know how to ride a bike.
If there's a toddler or even a baby in your family then why not hire a bike with a trailer or a baby carrier on board and stretch your legs down in the valley.
The superb traffic free 'piste cyclable' runs the length of the Barousse Valley, following the course of the Garonne river.
It's pretty much flat as a pancake and you can cover as much distance as you wish.
If your smalls are up for it, why not enjoy a bike ride all the way to the magnificent basilica of Saint Bertrand de Comminges.
Take your time and stop for a picnic on the banks of the river along the way.
If you really don't fancy the ride back then a pick up can be arranged for a small extra fee.
Rock climbing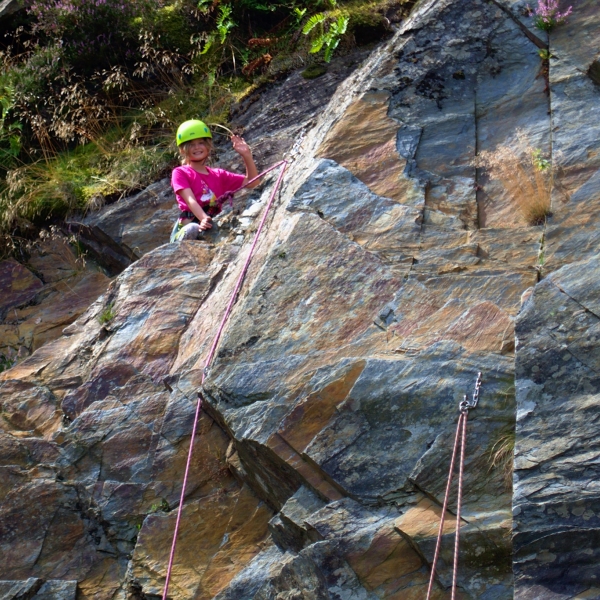 If you've got a fearless little monkey in the family then rock climbing is the perfect activity for them to try on their adventure holiday.
In our experience, young children are fearless and will have a bash at all kinds of activities on their adventure holiday that may test adults' nerves!
Children as young as 4 will develop problem solving skills as they work out the hand and foot movements required to make their way up a rock face.
Their physical efforts are rewarded with an amazing feeling of achievement as they reach the high point and are lowered off on the rope.
Lake kayaking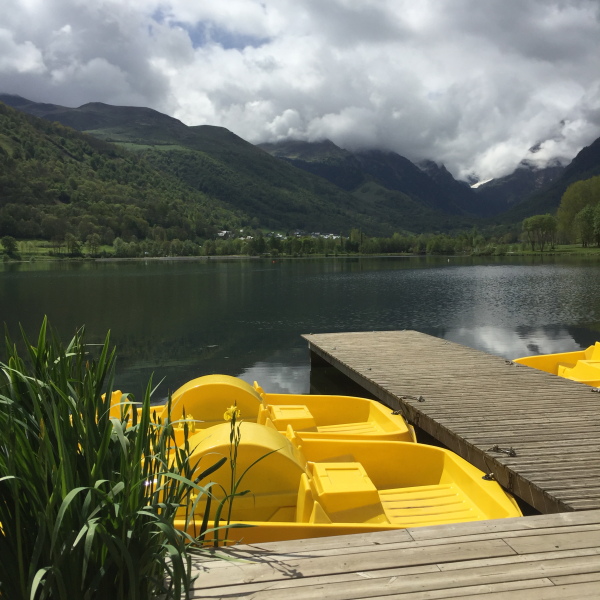 Provided they can swim 25m, children aged 5+ can join mum and dad or older siblings in a 2 or 3 person kayak for a couple of hours on one of the most beautiful lakes in the area.
It's a tranquil activity during which kids can enjoy the gentle art of using the oars to move through the glassy water.
If your family would prefer some good old traditional fun on the lake then an outing in a pedalo will be just the job.
Whichever option you choose, you'll be stunned by the incredible views of the high mountains that overlook the lake.
Watch for paragliders coming in to land on the strip alongside the lake and wonder what those views must be like from up high.
Paragliding
But don't just wonder!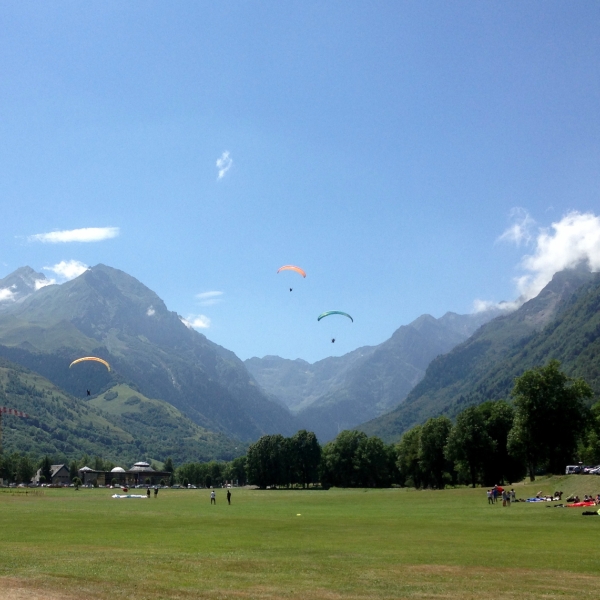 Treat your youngest, and indeed why not other members of the family, to an experience of a lifetime on a tandem paragliding outing to see those views for themselves!
Entrust your mini adventurer into the hands of one of our expert paragliding instructors and dare to watch as they jump from the mountain hillside and soar over the valley below.
Don't be alarmed by the screams of excitement as they experience emotions they may never have felt before!
The whole experience can be captured on a GoPro provided by your instructor.
Do a flight together and you'll have some fabulous family footage that will be the envy of your friends back home!
Paragliding is open to children as young as 4 years!
Other activities for young children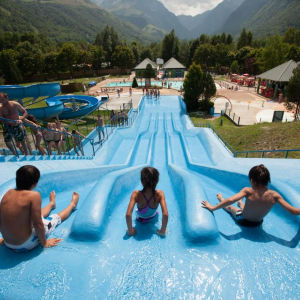 In addition to the above, you may have difficulty dragging the kids away from the fabulous Ludéo water park in Loudenvielle which has a great area for young children .
In Luchon there is also a pitch-n-putt, games area for young children and also tennis courts which will keep the whole family occupied.
Or maybe you'd prefer to enjoy a lakeside picnic and then a swim in the pretty little lake at Saint Pé d'Ardet or a paddle in the Garonne or Oô rivers.
There is plenty of fun for young children to enjoy in the Pyrenees mountains.
On an adventure holiday in the area you'll have the pleasure of seeing them grow in confidence as they tackle activities that they may not have the chance to do back home.
Choose a tailor made family adventure holiday with The Adventure Creators and you can be sure your youngest will have just as much fun as their older siblings!
Read more about our family adventure holidays in this excellent article in the Guardian.
Sharing is caring. If you've enjoyed this blog post, it would be great if you could share the Pin below to your Pinterest boards!