"We have a 13 year son and after last years holiday of sun and beach and moaning of being bored we knew we needed an active holiday….. Well here it is!" – the Hines family
If you're a family with active teens, keeping them occupied on your annual summer holiday can be quite a challenge!
"Mum, I'm bored!" "Dad, what can we do today?" Sound familiar?
As teens grow they are constantly seeking new ways to test their limits and have new experiences. Plus of course there are those bragging rights amongst their social circle to consider!
We understand this. So we've done the groundwork and sought out some of the most exciting and challenging adventure activities for you all to experience on a family adventure holiday in the Pyrenees mountains.
River Canyoning
River canyoning has been the top choice amongst families with older children who've come on a family adventure holiday in the Pyrenees with us this summer.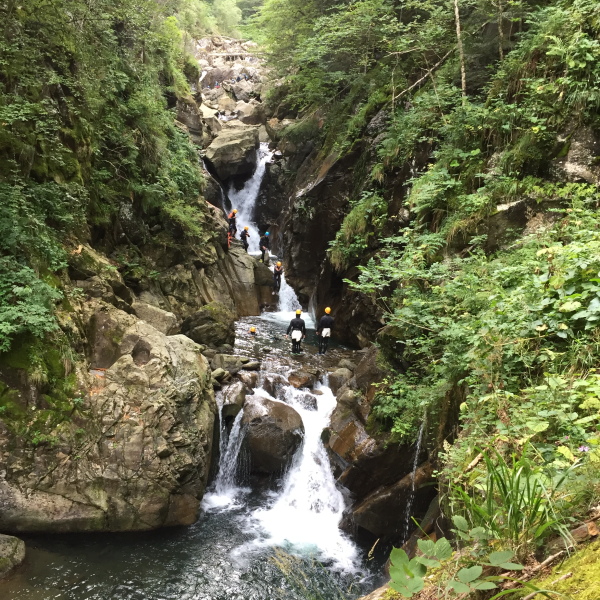 The natural river courses that flow down from the high mountains of the Pyrenees are wild and junglesque making for a real 'out there' canyoning experience.
Under the watchful eye of our expert instructor, adrenaline hungry teens get their fix by leaping from heights of up to 8m into deep pools of pure, fresh mountain water
They'll experience natural rock slides, abseils down waterfalls and a final tyrolean rope descent too.
River canyoning is a challenging and action-packed activity that will put a huge grin on the face of any teenager who's thirsty for a new experience!
Via Ferrata
Teens will be well tested on the Via Ferrata courses on which mental concentration and problem solving techniques will be required.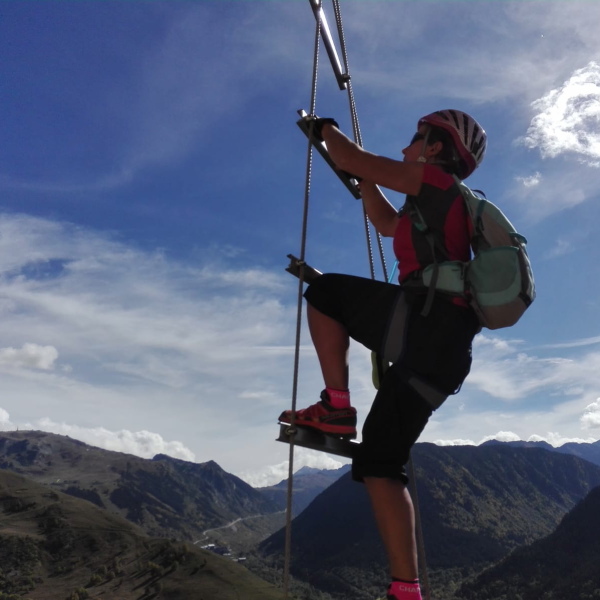 The Via Ferrata courses in our area of the French and Spanish Pyrenees are not to be under-estimated and include a whole range of challenging scenarios to overcome.
They include cable bridges across ravines, exposed cable ladder climbs and airy traverses on steep rock faces which appear to have minimal placements for the feet!
On a family adventure holiday, families with adventurous teens will relish the mental and physical challenges of the via ferrata, which can be tackled either in the reassuring company of a professional instructor or, on certain courses, self-guided if you wish.
River rafting
No family adventure holiday is complete without the obligatory river rafting experience!
Some rivers in the central Pyrenees benefit from scheduled water releases from hydroelectric facilities up-river which turbo-charge the water courses during otherwise dry summer months.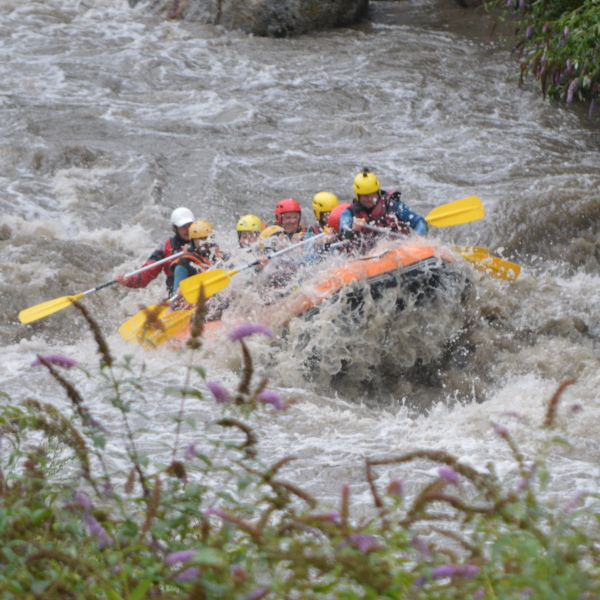 Any adventure-loving family with teens that are hungry for excitement are guaranteed their fill on this action-packed river rafting descent!
The rapids are class 4 on certain sections requiring concentration and discipline when handling the raft.
You'll be in the safe hands of some of the best river guides in the area on this adrenaline-fuelled adventure!
There'll be thrills. There may be spills. But isn't that what makes for a truly unforgettable family adventure holiday?
On their Pyrenees family adventure holiday your teens will collect plenty of brag-worthy material that they can share with their mates on social media when they get back home!
"Managing to please the 5 of us is quite a challenge and you succeeded! Thank you so much!" – the Patheja family.
For complete details of our family multi activity adventure holiday in the Pyrenees visit the holiday page here. You can also read all about Graham Snowdon's family adventure holiday experience in his excellent article here.
Sharing is caring. If you've enjoyed this blog post, it would be great if you could share the Pin below to your Pinterest boards!