An epic short break winter holiday in the Pyrenees
INCLUDED
4 nights B&B in a 2* hotel
All equipment
Transfers between activities
4 evening meals
Airport transfers
NOT INCLUDED
Flights
OPTIONS
Additional nights and extra activities possible
Stretched for time but need a winter adventure? This short break winter holiday is just what you need.
We've created a challenging winter adventure, an out of the ordinary experience that will test you both physically and mentally and give you an opportunity to tackle winter sports that you've probably never even heard of before.
Winter Canyoning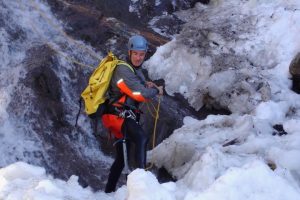 The Pyrenees leads the way in the sport of winter canyoning in France.  This is an exhilarating activity well suited to the adventure junkie.
Fully kitted out head to toe in a neoprene drysuit with only your face exposed, you are largely protected from the freezing waters that fill the rivers in winter.
However, the first time that you hit the water will take your breath away, guaranteed!
Your guide will lead you down the river course using a combination of abseils down ice-edged waterfalls, slides down natural rocky toboggans and jumps into deep pools. Your mettle will be well and truly tested on some sections of the descent but isn't that all part of the fun?!
Freeride Airboard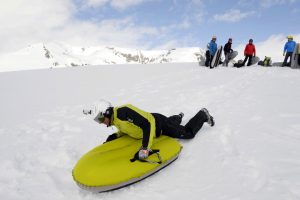 Airboarding, it's like sledging but on speed! The airboard is a kevlar-coated inflateable cushion with handles at the front. You lie on it face down, grab the handles then fling yourself down the slope using your feet and body weight to steer.
On the Freeride Airboard experience you will reach your airboard descent point near the Baqueira Beret ski resort in Spain after climbing around 750m+ on snowshoes whilst carrying your deflated airboard on your back. No mean feat if the snow is freshly fallen and deep.
This is a full day out in the company of an expert guide who will teach you the techniques for mastering a fun airboard descent
Ice climbing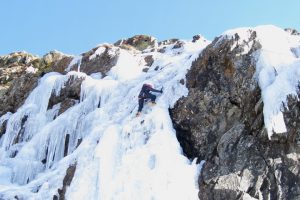 Ice climbing on frozen waterfalls. It's quite the adventure and a great physical and mental challenge.
All the necessary kit (harness, helmet, crampons and ice axe) will be provided by your high mountain guide.
After being briefed on the techniques you'll need to safely negotiate the frozen waterfall you'll be attached to the rope which will have been placed by your guide.
Then with a combination of ice axe swings and crampon kicks it's your chance to test your skills. Top tip, keep your heels down! Concentrate on your technique, make sure your axe placement is good then kick your feet into a higher position. There's nothing to it and you'll be at the top of the icefall before you know it.
This epic winter adventure break is based in the Luchon area of the French Pyrenees
Hotel Aquitaine – Luchon
Your base for this wpic winter short break is the Hotel Aquitaine, a great value 2* hotel in Bagneres-de-Luchon.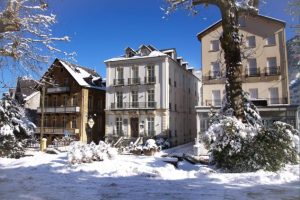 The hotel is located opposite Luchon's well-being centre in which the Vaporarium is located.
The Vaporarium is Europe's only natural hammam. It is comprised of a series of underground galleries in which the earth's natural thermal energy has created an environment that has 100% humidity and temperatures of up to 42 deg C.
The hotel is in a quiet position just a few minutes walk from Luchon town centre.
Everything is clean and light and bright here and the owner takes great pride in the quality of his establishment. All bedrooms have en suite bathroom facilities with a shower and toilet and TV. Some are oriented towards the mountains or face the thermal park.