You know the feeling, that sinking, sick feeling when you realise you've forgotten to pack your expensive mountain biking glasses for your mountain biking holiday.
Buying a new pair is going to cost you a fortune. We've been there, done that, which is why we've created this ultimate mountain biking holiday kit list for you.
If there's anything you think we should add to this MTB kit list, leave us a comment below.
MTB holiday kit list no. 1 – MTB clothing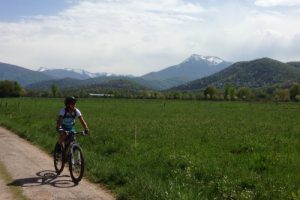 What mountain biking clothing you take on your MTB holiday will very much depend on the time of year you are going.
For an MTB holiday in high summer you obviously won't be needing those thermal layers and neoprene gloves, but in the autumn conditions can change quickly.
But whatever your MTB holiday destination, our best advice is to go prepared for all weathers.
The basic MTB clothing you'll need to take is the following;
– 2 pairs of MTB socks (one to wash, one to wear)
– 2 pairs of MTB shorts or baggies
– 2 cycling tops made of wicking fabric. One should be long-sleeved
– Women, 2 sports bras!
– Lightweight windproof and lightweight waterproof MTB jacket
– Arm and leg warmers
You may also want to take mountain biking over-booties to keep your feet dry should it rain. They don't take up much space in your luggage and will keep your feet toasty dry should the weather not be playing ball.
MTB holiday kit list no. 2 – MTB personal equipment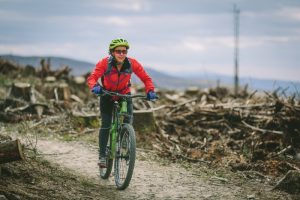 There are some mountain biking essentials that you simply can't afford to forget if you're heading away on a MTB holiday.
– MTB helmet
– MTB shoes
– Cycling gloves
– Mountain biking body armour
– A Camelbak or similar mountain biking back pack
– Mountain biking glasses with different lens options
Mountain biking glasses with different lens options are particularly important if you are coming on a MTB holiday in the Pyrenees. You can expect strong sun which requires dark tinted lenses but also long woodland descents for which clear lenses will be essential.
It's lways a good idea to bring both short and long-fingered gloves as the weather may change suddenly, especially if you are mountain biking in the early autumn.
MTB holiday kit list no. 3 – MTB mechanical stuff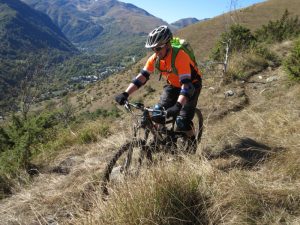 If you're taking your own mountain bike away on holiday, there are certain items you'll need to bring with you;
– Spare brake pads
– 2 spare inner tubes
– Spare rear hanger
– Zip ties – a bit like gaffer tape, they have a multitude of uses!
If you're on a guided MTB holiday your guide will have a multitool, pump and chain lube so you don't need to go to the trouble of bringing those. However, if you've chosen a self-guided MTB holiday, these items are essential.
If you're hiring a mountain bike for your holiday and normally use SPDs back home, don't forget to bring your pedals too, as hire bikes are always equipped with flat pedals. You may also prefer to bring your own MTB saddle.
MTB holiday kit list no. 4 – bits n bobs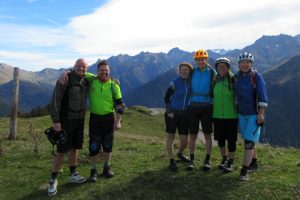 There are several additional bits and bobs that you will need to pack for your MTB holiday.
– Camera
– Spare battery
– Spare memory card
– Sunscreen
– Chamois cream
– Lipsalve preferably with an SPF rating
– Phone charger
– Cycling computer  such as a Garmin
– Insect repellent if you are going on a summer MTB holiday
– Sports fuel and gels if you use them
On a guided mountain biking holiday you don't need to worry about bringing a first aid kit as your guide will carry one and will be properly  trained in both first aid and CPR. They'll also have a complete bicycle repair kit so you can ride with peace of mind.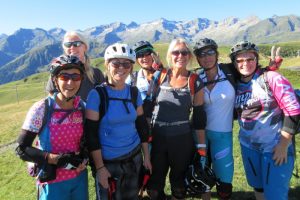 It can get very hot in the Pyrenees in the summer months and you can lose a lot of body salts as you sweat on those steady climbs.
Electrolytes are just as important if not more important than fuel in these situations, so do pack some Nuun tablets or something similar.
If you are coming on one of our mountain biking holidays in the Pyrenees, you really should bring a swimming costume too.
Not only is there a fab open air swimming pool in Luchon but also Europe's only natural hammam, the Vaporarium, which is a great place in which to relax those ride-tired muscles. However, blokes should note that swimming shorts can't be worn. You have been warned!
Sharing is caring. If you've enjoyed this blog post, we'd love it if you could share the Pin below to your Pinterest boards!