A comprehensive MTB coaching course in the French Pyrenees
INCLUDED
Transfer from Toulouse
5 days of coaching and seminars
7 nights B&B
6 evening meals
NOT INCLUDED
Flights
Drinks with meals
OPTIONAL EXTRA
Bike hire
Packed lunches
CONDITIONS
For pre-composed groups of 4-7 people
This MTB coaching course takes place in the beautiful mountains of the Pyrenees in SW France.
Based in Bagnères-de-Luchon, it's a unique opportunity for the enthusiastic intermediate level mountain biker to learn the practical and theoretical skills necessary to crank their riding and performance up a notch.
Is this MTB coaching course for me?
We are mountain bikers ourselves and know all too well that feeling of being at a plateau in our riding. Like us, you may have been mountain biking for years but always at the same level, never pushing yourself out of your comfort zone.
You know you're capable of more and would like to have the skills and confidence to nail the more technical trails. However you have no idea what you need to do to get you there.
This coaching course will teach you the essential MTB skills and techniques which you can then take home with you for further refinement on home trails.
If you have mountain biking competitions or events in mind or if you have your eye on longer endurance or multi day rides, you will need to dial in your nutrition and mental tool box to get you through. This MTB coaching course will equip you with the knowledge that will be essential to your success.
What can I expect on this MTB coaching course?
This week of MTB coaching is very much rider focused. Seminars and practical MTB skills coaching sessions will be tailored to you as a rider.
You'll pick up great technique secrets, many of them so simple but with a big impact on your riding.
Before you arrive for the coaching week you'll receive a detailed questionnaire which will give your coaches the info they need to tailor make your week of MTB coaching.
Possible classroom seminar topics
The seminars are led by a qualified personal trainer, nutritional therapist and former elite series women's XC MTB champion and may include;
Holistic Nutrition
Hydration
Bike set up
Biking confidence
Sports Nutrition
Training & Recovery
Bike mechanics
Practical MTB training sessions
The mountain bike technique and skills training sessions on this MTB coaching course are led by a British Cycling qualified coach who was formerly the skills trainer to his wife, a women's elite series XC champion. He knows his stuff and will tailor the MTB skills sessions to your needs. They may include the following;
Cornering – basic to advanced techniques
Manualing – the key points and reasons why
Efficiency and finding free speed for your chosen bike event
Specific competition drills right for you
Bunny Hopping – each level will be addressed
Riding obstacles – up, down and all around
Hopping on and off the bike quickly and efficiently
Bike Balance exercises
The accommodation for your MTB coaching week is a lovely small relaxed B&B/hotel within walking distance of Luchon town centre. It's very much a kick your shoes off and relax kind of place and the food here is fantastic.
There are secure bike storage and repair facilities too. Accommodation will be in shared rooms. See the Accommodation tab for details.
Le Lutin – Luchon
Your base for this MTB coaching week is a relaxed, no frills small hotel with a 'kick off your shoes and make yourself at home' philosophy.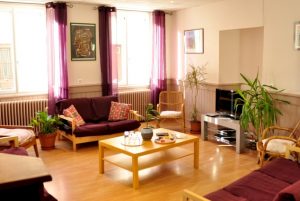 The accommodation is in a quiet location and yet within walking distance of Luchon town centre and also the outdoor swimming pool and Vaporarium.
You've got secure bike storage facilities here as well as bike washing and bike maintenance facilities.
The rooms are basic but practical, some with en suite facilities, others sharing two shower rooms and WCs on the landing.
Russell is renowned for his cooking and his evening meals are legendary. He uses locally sourced produce as much as possible and the three course meals will satisfy even the biggest of appetites.
The breakfast buffet includes cheeses, ham, yogurt, a variety of cereals, breads, pastries, tea, coffee, hot chocolate …. you get the picture!
The base for this MTB coaching week is Bagnères-de-Luchon in the French Pyrenees