An MTB coaching week for women in the French Pyrenees
INCLUDED
Transfer from Toulouse
5 days of coaching and seminars
7 nights B&B
6 evening meals
NOT INCLUDED
Flights
Picnic lunches
 Drinks with meals
OPTIONAL EXTRA
Cotic Rocket full suss bike hire
CONDITIONS
For min 5 people
This women's mountain biking coaching week takes place in the beautiful environment of the Pyrenees mountains of SW France. If you are an enthusiastic intermediate level mountain biker, keen to make significant improvements in your mountain biking then this MTB training week is for you.
Why should I book this MTB coaching week?
Everybody has their own reasons for wanting to take their riding to the next level. You may be a competitive mountain biker with your eye on some gnarly MTB enduro or X races later in the year. Getting that competitive edge is important to you and you need to dial in your nutrition and race psychology.
Or you could just ride your mountain bike for the pleasure of it but want to learn how to improve your endurance for longer rides or to nail the skills you need to tackle the trail centre black runs.
What can I expect on this women's MTB training camp?
This comprehensive women's MTB coaching week will include a combination of tailor-made classroom seminars as well as practical 'on the bike' sessions to get you to where you want to be.
Practical MTB training sessions and classroom seminars will be tailormade to what you want to get out of them. You won't find many womens mtb training courses that have this degree of flexibility!
Possible classroom seminar topics
The seminars are given by a qualified personal trainer, nutritionist and former elite series women's xc mtb champion and may include;
Holistic nutrition
Hydration
Bike set up
Biking confidence
Sports nutrition
Training & recovery
Bike mechanics
Practical MTB training sessions
The mountain bike technique and skills training sessions on this mtb training course are led by a British Cycling qualified coach who was formerly the skills trainer to a women's elite series XC champion. He knows his stuff and will tailor the MTB skills sessions to your needs. They may include the following;
Cornering – basic to advanced techniques
Manualing – the key points and reasons why
Efficiency and finding free speed for your chosen bike event
Specific competition drills right for you
Bunny Hopping – each level will be addressed
Riding obstacles – up, down and all around
Hopping on and off the bike quickly and efficiently
Bike Balance exercises
Before you come on this women's MTB coaching and training course we will send you a questionnaire so you can tell us about your mountain biking and what you want to get out of the course. All you need to do then is turn up and be ready to learn!
The base for this women's mountain biking training course is Bagnères-de-Luchon in the French Pyrenees
Le Lutin – Luchon
Your base for this women's mountain biking coaching week is a relaxed, no frills small hotel with a 'kick off your shoes and make yourself at home' philosophy.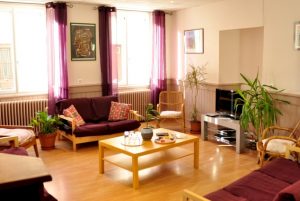 The accommodation is in a quiet location and yet within walking distance of Luchon town centre and also the outdoor swimming pool and Vaporarium.
You've got secure bike storage facilities here as well as bike washing and bike maintenance facilities.
The rooms are basic but practical, some with en suite facilities, others sharing two shower rooms and WCs on the landing.
Russell is renowned for his cooking and his evening meals are legendary. He uses locally sourced produce as much as possible and the three course meals will satisfy even the biggest of appetites.
The breakfast buffet includes cheeses, ham, yoghurt, a variety of cereals, breads, pastries, tea, coffee, hot chocolate …. you get the picture!