In the ongoing climate emergency, many skiers are looking for a lower impact, more sustainable skiing experience to get their annual skiing fix. Back-country skiing provides the solution, but what is it and how can you enjoy it this winter?
We have the lowdown.
What is back-country skiing?
Back-country skiing is also known as ski touring and enables you to explore a winter wilderness away from the ski resorts, under your own power and with no mechanical assistance.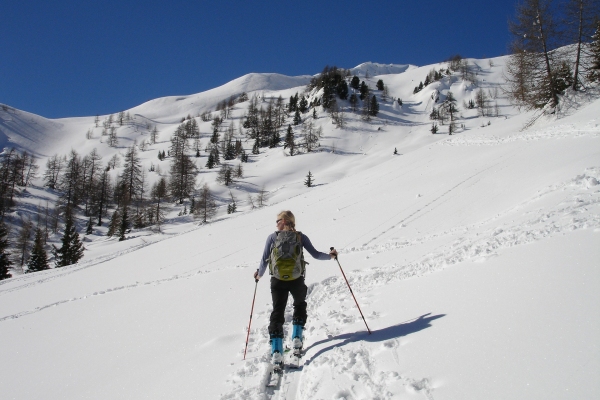 Exploring the back-country on skis enables you to reconnect with Nature and discover a winter wonderland, far away from your fellow human beings.
It can be a life-changing experience, both physically and mentally.
Back-country skiing involves skiing equipment that's very different to that used on pisted slopes. Read on for the lowdown.
How safe is it?
There is always an element of danger involved in any skiing away from the ski resorts.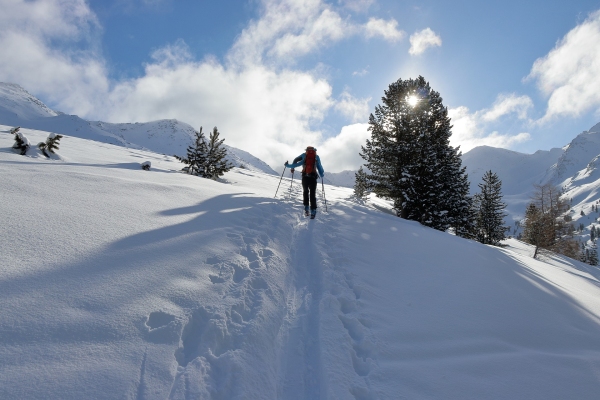 This is why we always recommend those new to ski touring learn the essential skills and mountain craft from an experienced and qualified local guide.
They will have first hand knowledge of the terrain and know not only the areas that need to be avoided due to avalanche risk but also where to find the best slopes for your ability and experience.
Conditions can turn on a sixpence in the back-country and the situation can quickly become dangerous.
Your guide's local knowledge of weather patterns, wind, temperature and snow fall is absolutely essential for a safe and enjoyable back-country ski excursion
Before your first ski tour, your guide will give you instruction on essential avalanche awareness skills and how to use that crucial ARVA and other equipment that will keep you safe in the mountains.
What skiing skills do I need?
Any skier who can comfortably ski red runs in resort will enjoy exploring the back-country winter wilderness on a ski tour.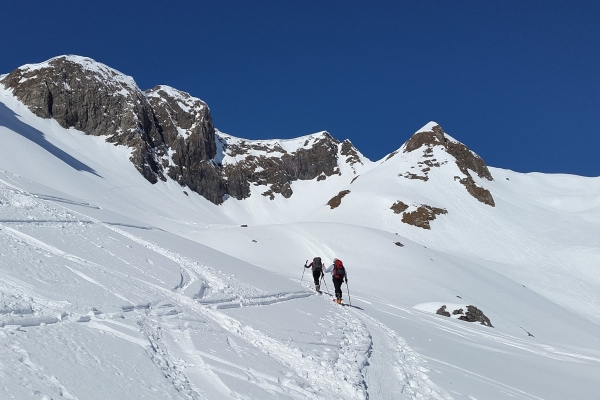 It's no surprise that, away from the perfectly groomed pisted slopes, you may come across a variety of natural snow conditions from slush to ice to perfect powder.
You should be able to tackle whatever conditions Mother Nature throws at you!
Good basic cardio fitness and leg strength is also important as skinning uphill can be physically demanding.
But don't worry, on an initial guided outing, you won't be thrown in at the deep end.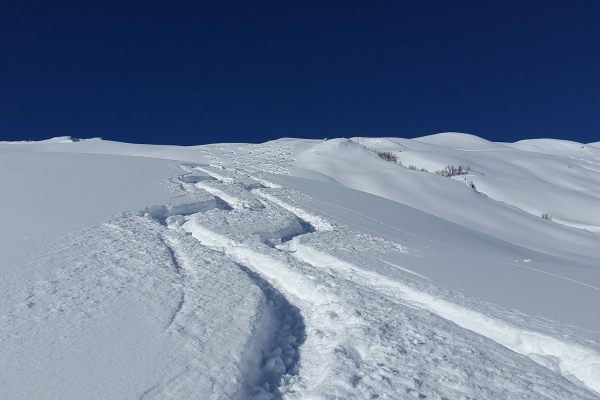 Experienced guides know that the climbing rate for a novice backcountry skier is around 250m per hour on slope angles of 30-35 degrees and will plan the route accordingly.
But once you've mastered the knack of sliding your skis effortlessly through the snow you'll be able to enjoy longer days with greater ascent and distance too.
What equipment do I need?
The good news is that all backcountry ski equipment can be hired locally. This includes security equipment such as the ARVA (avalanche transceiver), shovel and probe
Backcountry skis are quite different to those used in alpine skiing. They are lighter and with bindings that allow your heel to be released and also a heel riser bar to make those uphill sections less strenuous.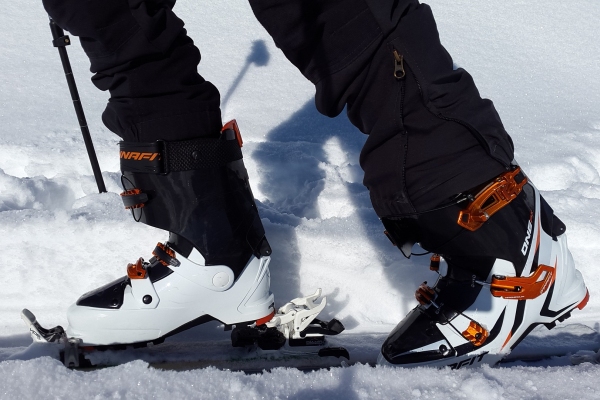 The boots are also very different and include a slot on the toe which clips into the binding as well as more adjustments and fixings that make skinning uphill that bit more comfortable.
The uphill motion is possible thanks to 'skins' which are attached to the underside of your skis and prevent you from slipping backwards.
Once you reach your high point you remove the skins from the skis, fold them up and pack them away before your fun descent back down.
You'll need a 40 litre backpack in which to carry your additional clothing layers, drinks, food and other essentials.
What should I wear for ski touring?
Traditional heavy, insulating ski clothing has no place in the backcountry. Wear your resort ski jacket and padded salopettes at your peril!
You're guaranteed to work up a sweat on a ski tour so layering your clothing is really important.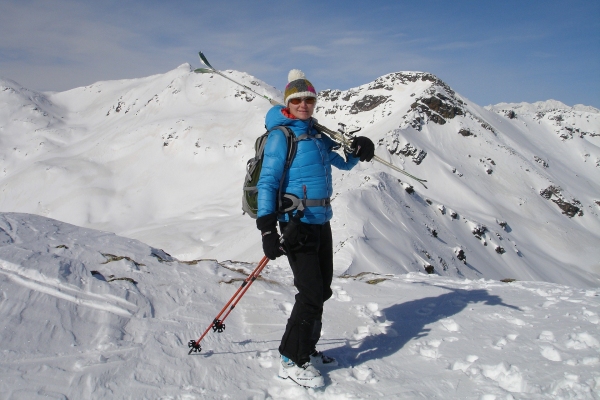 We recommend the three layer principle. Start with a long sleeved base layer of merino wool or synthetic material, add a lightweight fleece and a technical lightweight waterproof or synthetic insulated jacket on top.
Ideally, your bottoms should include a zip which can be undone up to the knee to allow for ventilation.
Silk liner gloves are a god-send as they keep your hands warm on the ups and are a great extra layer underneath your ski gloves should it get really cold.
We love buffs which have so many purposes and can be worn underneath your helmet on the descent to keep your ears warm.
What can I expect on my first outing?
If you're new to ski touring, your guide will start you off gently on slopes that won't exceed 30°-35° and with total ascent for the day that will normally be under 1000m.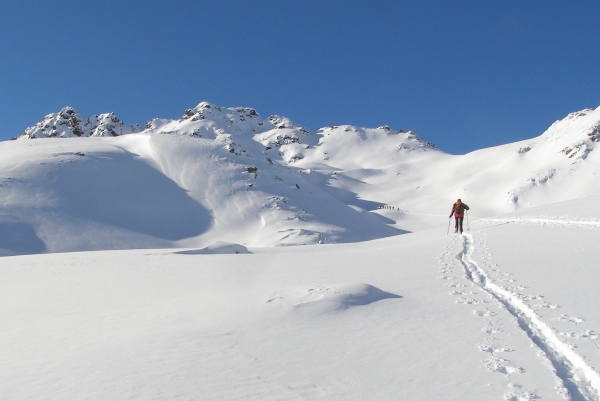 On your first ski tour, the worst thing you can do is over-estimate your fitness and ability. This is why it's important for your instructor to quickly assess your level and adapt upcoming outings accordingly.
You should take plenty of water or other fluids which you should sip regularly, whether you're thirsty or not.
Don't scrimp on the snacks either as you can expect to expend a fair bit of energy on a back-country ski tour!
As you head up into the snowy mountain wilderness on your first ski tour you'll soon discover why backcountry skiing is the perfect antidote to the stresses and strains of today's world.
At the end of the day, nicely tired muscles will be proof of a grand day out and you're sure to be left wondering why it has taken you so long to discover this addictive winter sport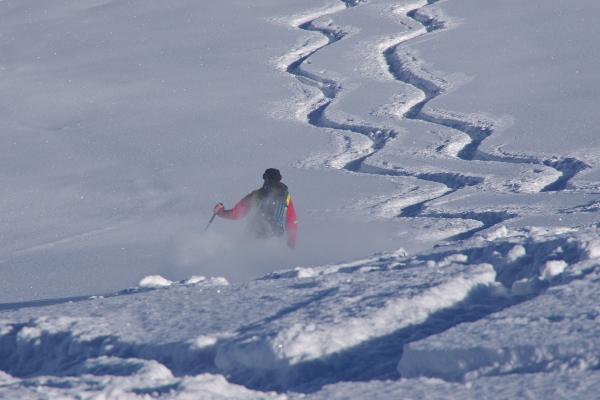 The best time to enjoy backcountry skiing is in March and April when the snowpack in the mountains has settled down and conditions are stable.
If you've never ski toured before but would like to learn what all the fuss is about, check out our Learn to Ski the Backcountry Course.
This is available on demand for small groups of between 4 and 6 people.
Come and play!