I could have done with some cycling tips to beat the heat when I first started cycling in the Pyrenees. But I learnt the hard way and it wasn't pleasant.
I remember the day vividly. It took me by surprise. I'd never known anything like it on the bike. I was convinced I was going to tumble sideways onto the sticky molten tarmac as my legs refused to turn and I felt sick. It was early afternoon and I felt absolutely shockingly dreadful.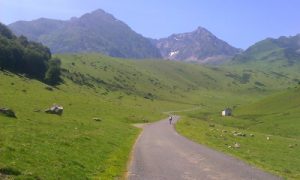 The temperature was climbing into the mid 30s C as I attempted to cycle up the Col de Peyresourde from the Louron valley that day.
I'd been sipping my sports drink regularly so my body should have had enough energy.
But I had nothing. I was dead on two wheels.
That outing was an eye opener.
It taught me an enormous amount about cycling in the heat of a Pyrenees summer.  It was a steep learning curve. But today I am wiser and better prepared for cycling in the heat.
If you live in cooler climates and are considering a cycling holiday in the Pyrenees, these top tips should help you prepare for cycling in the heat and prevent you from making many of the mistakes I made in those early days.
Top cycling tip no 1 – beat the heat by cycling early in the day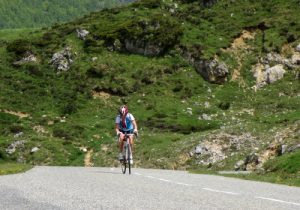 Avoid the highest temperatures of the afternoon by setting off to conquer the Pyrenees cols early in the day.
Aim to be on your bike as soon as possible after breakfast and to have completed your ride by lunchtime.
In July and August, temperatures may have climbed up to 36-37C by mid afternoon.
Such conditions are not conducive to a successful ride unless you are already acclimatised to the heat.
Most cyclists who have come to the Pyrenees for a cycling holiday are only here for a limited time so have unfortunately not had the luxury of such acclimatisation.
Top cycling tip no 2  – manage your cycling expectations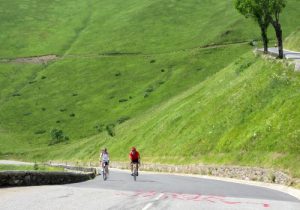 If you are coming to the Pyrenees from a cooler climate you will be surprised at just how much the heat can affect your performance.
Don't come with the idea of knocking off some Strava KOMs or QOMs as you will most likely to be disappointed.
The heat will affect the amount of effort you are able to put in and the speed at which you are able to cycle.
Push too hard too early in your holiday and you may put yourself out of action for the the rest of the week. Pace yourself and listen to your body.
Top cycling tip no 3  – beat the heat with the right clothing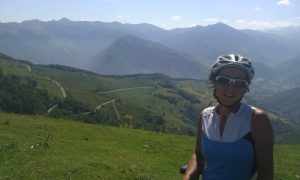 Wear a light-coloured jersey which reflects radiant heat, ideally a full-zip one which you can undo completely to enable airflow around your body.
Obviously girls, you will need to use your discretion!
Take a buff which you can soak in the cool waters of a mountain stream and then tie around your head under your helmet to keep your temperature down.
Consider wearing a cycling cap underneath your helmet to keep the worst of the sun off your face. Make sure your cycling glasses have UVA and UVB protection in order to protect your eyes from the strong rays of the sun.
Top cycling tip no 4 – keep on top of hydration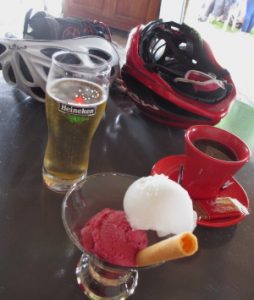 Make sure you are fully hydrated before you even climb on to your bike.
Sip fluids steadily for an hour before you head out.
Put your bidons in the fridge overnight so that they are well chilled ready to go on your bike in the morning.
Putting some ice cubes in them just before you head out on your cycle ride is also another way to ensure your fluids don't end up unpalateably warm.
Stop regularly in little Pyrenean villages for cooling refreshments such as shandy and ice cream/sorbet.
However, beware of drinking too much alcohol as it can have a dehydrating effect which is the last thing you need!
Coffee is a good alternative for those that feel the benefit of a caffeine hit when cycling.
Top cycling tip no 5 – be aware of electrolyte levels
Your body expends a tremendous amount of energy as it attempts to dissipate heat and regulate body temperature. One of its principle mechanisms is to sweat but the loss of bodily fluid in this way has an impact of your body's physiology.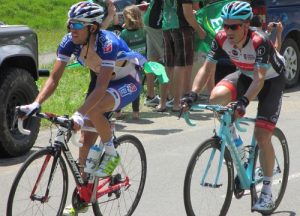 One of the most dangerous mistakes cyclists can make when riding in a hot climate for the first time is to assume that water and even just their regular sports energy drink is all that they need to keep their body in balance.
If you drink copious quantities of water or diluted sports drink and fail to replace the electrolytes that are lost through sweat you run the risk of hyponatraemia.
This is when the electrolytes in your blood plasma are diluted to such an extent by over-consumption of water that they become dangerously low. It's a condition that can be deadly in its severest form.
The best way to avoid this happening is by adding electrolytes to your bottles right from the off. This will keep your body in a steady state and give you the best chance of successfully completing your day of cycling the Pyrenees cols.
Top cycling tip no 6  – beat the heat by using local water sources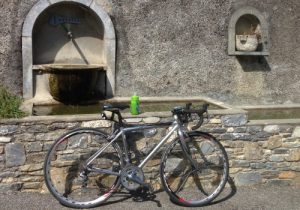 The Pyrenees are blessed with numerous water courses and village fountains.
Make full use of them by dousing your pulse points in the cooling water at every opportunity.
Soak your wrists, inside of your elbows, behind your knees and of course your head and neck in order to bring your body's temperature down.
If the water isn't too freezing cold, get your cycling buddies to poor some water down your back and soak the back of your cycling jersey.
Of course the very best way to beat the heat when cycling in the Pyrenees is to take a proper dip in a river. However, cycling in a soggy chamois isn't the most pleasant of experiences, so save this heat-busting experience for the end of your ride. It's not a bad way to cool off after your col-conquering efforts, after all!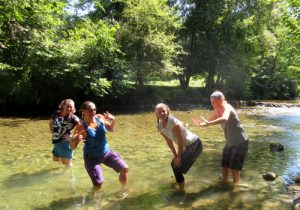 Do you have any top cycling tips to beat the heat that you'd like to share with fellow cyclists? If so, we'd love to hear from you.
Sharing is caring. If you've enjoyed this blog post, please share the Pin below to your Pinterest boards!