This essential kit list for winter hiking covers those all important items that you need to remember to bring on your next winter adventure holiday.
General kit to bring on your winter holiday
There are certain essential items that you should bring regardless of the winter activities that you'll be doing.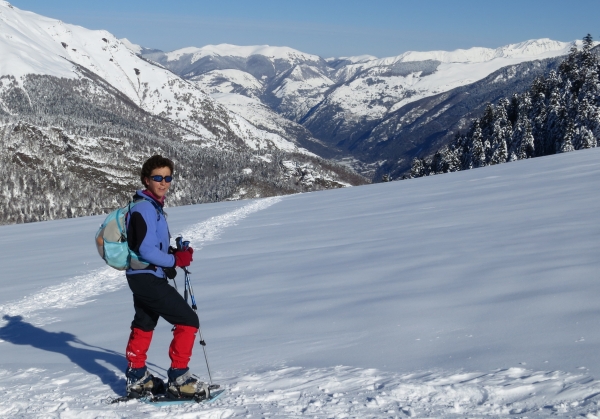 Sunglasses, sun screen and lip salve are right at the top of the list as the glare from the sun's reflection on the snow can literally be blinding!
Next, bring a small 20-25L day pack, big enough to take snacks and drinks as well as spare clothing which you may need should the weather change suddenly.
You'll need to stay hydrated while you're out having fun winter adventures but don't rely on a hydration system as the pipe may freeze in the cold!
Instead, bring water bottles and keep them inside your pack.
If you suffer from Reynaud's then keep some hand warmers in your pack too. The Reynauds Disease website has some excellent suggestions.
What to wear on a winter hiking adventure
We always recommend you come equipped for a wide range of activity levels.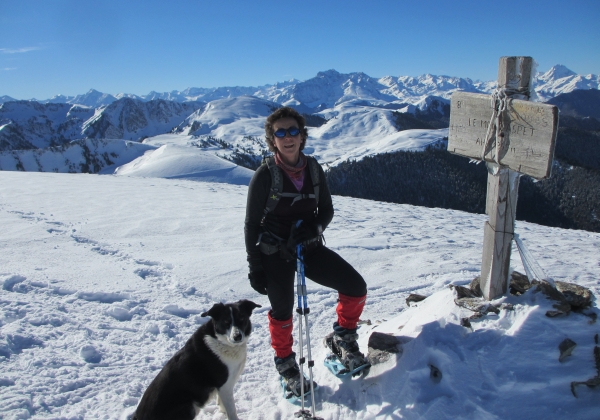 If you're doing an activity such as snowshoeing, it will demand exertion which generates body heat one minute then you'll be standing around taking photos or having a snack the next.
The best advice we can give, based on many years experience of winter adventures in the mountains, is to layer your clothing.
We're huge fans of merino base layers which, for their weight, are incredibly versatile, keeping you warm but also cool at the same time.
Merino wool also does a great job of wicking moisture away from your body and doesn't smell when you get sweaty!
Top tip – sign up to both the Lidl and Aldi email or app alerts as they often have bargain price yet good quality merino items in store at this time of year.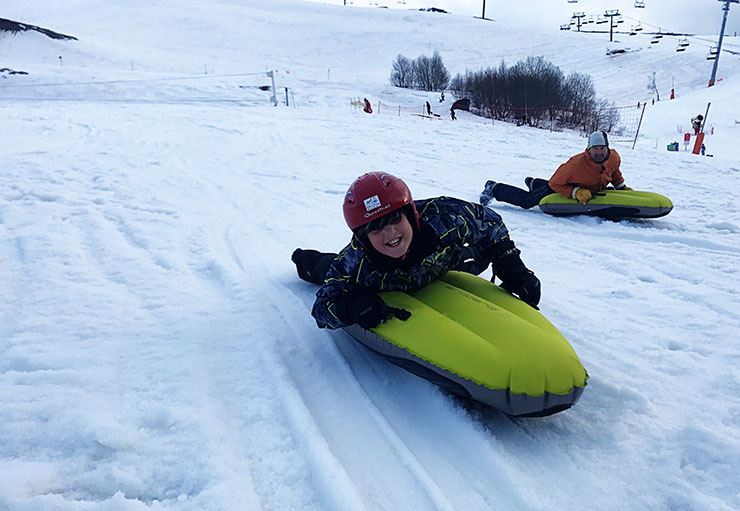 Over your long sleeve merino base layer wear a windproof jacket and also carry a lightweight waterproof jacket with hood in your pack.
I also wear (or carry if I'm getting warm) a synthetic puffer-style gilet over my base jacket which provides an added layer of warmth if it's windy. You may prefer a synthetic or down jacket if you're going to be doing a lot of standing around.
On your legs you'll need a windproof and insulating pair of trousers but avoid ski salopettes as you'll soon overheat!
If you're doing an activity like air-boarding then you'll need water resistant trousers otherwise your legs will quickly get wet!
Whatever clothing items you buy for your winter adventures, do avoid cotton at all costs!
It takes forever to dry and will stay sweaty against your skin making you feel chilly and uncomfortable.
What to wear on your extremities
The number one item we always recommend is a merino buff!
A buff is such a versatile item which you can wear around your neck, pull over your ears and even wear on your head.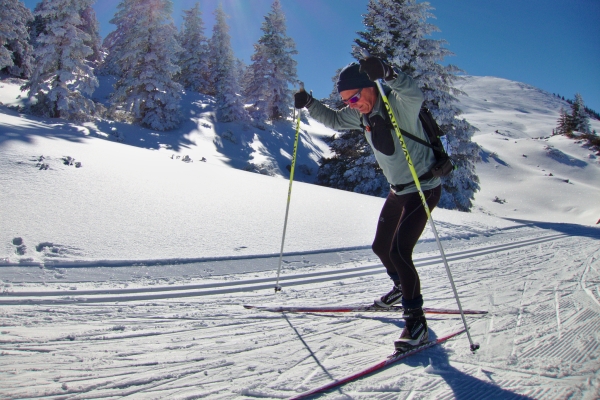 Next, pick up some silk liner gloves from somewhere like Decathlon as they're super lightweight and ideal for day to day wear. They're not as expensive as they sound!
We wear silk liner gloves underneath regular fleecy wind-stopper gloves if we're snowshoeing or under waterproof gloves if we're doing an activity like airboarding.
A warm woolly hat that covers your ears is essential if you're up in the mountains in winter.
On your feet, invest in some good quality wool socks. Again, we recommend Merino as the socks are soft, lightweight, insulating and wicking too.
Wear them inside hiking boots that have a good grippy sole and a waterproof membrane such as Goretex.
Top tip – you can often find great deals on footwear on sites such as Sportpursuit which have flash sales of leading brands.
If you're including snowshoeing on your winter holiday then you'll need to get hold of a pair of gaiters too which will stop the snow from getting inside your boots.
So, you see, you don't need a ridiculous amount of kit to be properly equipped for winter hiking, snowshoeing or a mixed activity winter adventure holiday.
Look out for bargains online and in the sports shops and you'll be kitted out for a fraction of the price that you would pay if you were buying all the kit you'd need for a skiing holiday!
Sharing is caring. Feel free to pin the pic below on Pinterest.