If you're a mountain biker you'll no doubt have heard of the term 'enduro'. But what is it? What's involved and is enduro mountain biking something you'd enjoy?
Enduro is traditionally a style of MTB racing. In it, the rider makes their way in their own time to a high start point from where they have a timed descent.
The term enduro has however been hijacked to denote a style of XC mountain biking experience which follows similar principles.
In enduro style mountain biking, you get to avoid most of the uphill work thanks to the use of an uplift such as van or ski lift to get you to that drop off point.
Although this style of mountain biking is predominantly down hill it shouldn't be confused with pure DH riding. That's a whole different ball game altogether!
Enduro mountain biking in the Pyrenees
The unspoilt mountains of the Pyrenees lend themselves beautifully to the sport of enduro mountain biking.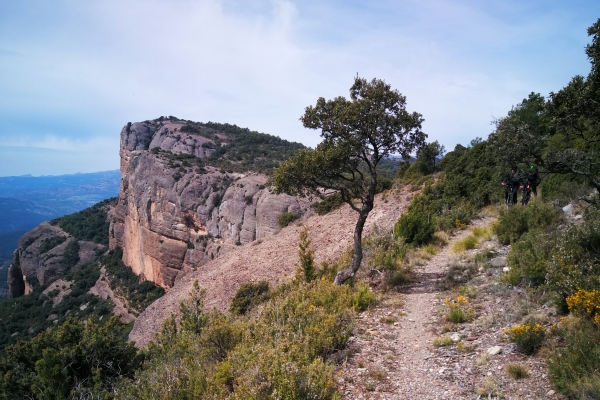 It's no coincidence that the Pyrenees are host to a number of enduro mountain biking championship events.
Loudenvielle in the beautiful Louron valley has hosted several stages of the Enduro World Series, the Spanish National Enduro MTB championships have been held in the Aran Valley and the Ainsa area of the Spanish Pyrenees is renowned for its downhill and enduro MTB routes.
One form of uplift in the area is the gondola ski lifts which operate throughout the summer months.
They whisk mountain bikers up to the ski resorts from where they can enjoy some stunning descents on pristine singletrack.
Otherwise, vehicle uplifts may use minor roads and tracks to reach a convenient drop off point from where the fun riding can begin.
Is Enduro mountain biking for me?
If you're a regular mountain biker who's not a great fan of riding uphill and the idea of earning those descents is not something you can relate to then yes, you'd love enduro mountain biking!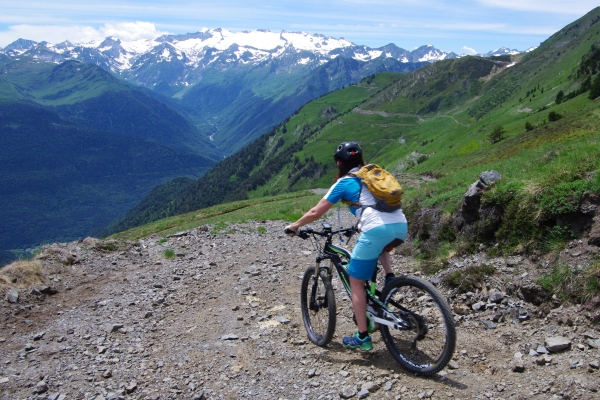 If you're a technically competent mountain biker who'd rather spend their time shredding the swooping and sometimes gnarly natural descents than slogging up hills then most definitely, this form of mountain biking ticks your boxes!
Enduro style mountain biking in many areas is not generally suitable for beginners as the descents can be pretty demanding.
But that said, we are fortunate in our area of the French Pyrenees to have a number of easy way-marked green and blue graded enduro MTB routes suitable for the less technically confident rider.
If you have kids aged 14+ who love mountain biking then they will have a blast on a guided half day enduro style experience here.
This is a popular option on our fully flexible summer multi activity holiday and is also available self-guided.
What sort of bike and kit do I need?
A regular full suspension mountain bike with a dropper post is the best bike to use on an Enduro-style trip.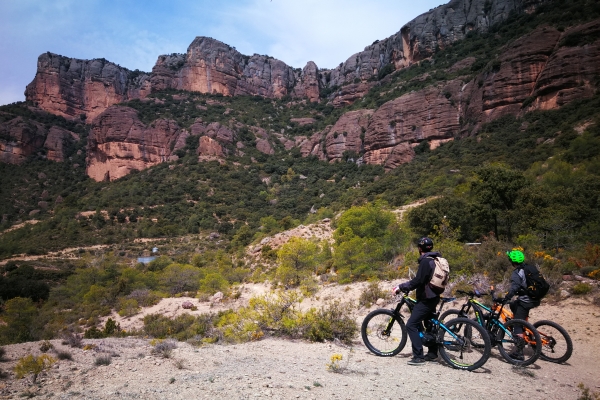 Mountain bike hire is always an option on our mountain bike holidays.
It needs to be comfortable both for the limited uphill riding you will do and also for the action-packed downhill riding too.
The kit you need is pretty much the same as for regular XC mountain biking.
A backpack containing a hydration pack and windproof/waterproof layers is essential. Knee and elbow protection, helmet, riding glasses and gloves should also be on your kit list.
If you've opted for an enduro MTB holiday then elbow and knee pads and also a helmet will usually be provided by your guide.
So, there you have it. If enduro was a bit of a mystery to you before, I hope this post has shed some light on this fab fun mountain biking style.
You can see details of all of our mountain biking holidays in the Pyrenees including some e-bike holiday options on this link.
Sharing is caring. Feel free to share the pic below to your Pinterest boards.