We're continuing our mini series in which we introduce you to some of the key activity partners, guides and instructors that you may meet on your Pyrenees holidays.
Today, we're delighted to introduce you to hiking guide Marc.
Marc is a qualified international mountain leader and our hiking guide of choice for some unforgettable off the beaten path hiking adventures in the Pyrenees mountains.
As you'll see from his answers below (translated from French), he's absolutely passionate about the wildlife of the area.
Q1 – In your view, what makes the Pyrenees such a special part of the world?
The Pyrenees offer such incredibly diverse landscapes through the changing seasons.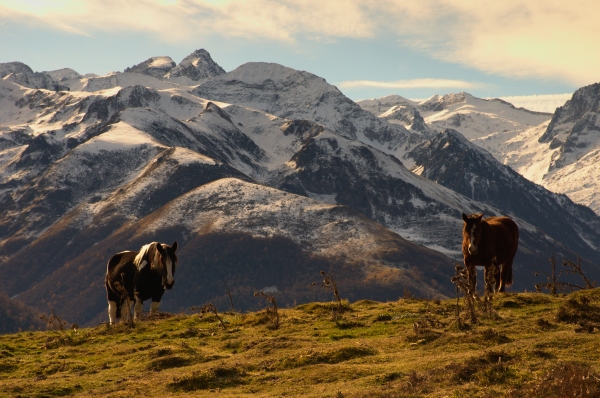 From the valleys up to the highest peaks, these mountains provide the opportunity to observe and even to be in direct contact with amazing flora and fauna, which is often not possible in other mountain ranges.
The Pyrenees remain a preserved landscape. They are not affected by mass tourism and offer the possibility to discover an authentic cultural and natural heritage which is unique in Europe.
The mountains here are perfectly suited to active families and to those who are seeking peace and quiet and wish to make some surprising discoveries in nature.
Q2 – What gives you the most pleasure about guiding people on mountain hikes?
For me, making people happy is what gives me the greatest pleasure.
Sharing amazing moments off the beaten path is such a special experience!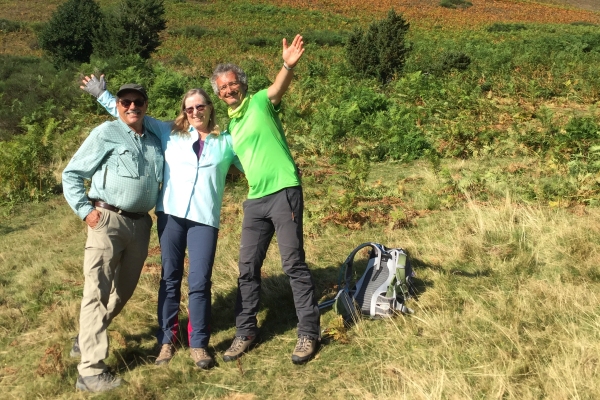 Q3 – Tell us one surprising fact about you that will make people smile
Do you know the Pyrenean chamois? That's the nickname by which I'm known! Do a quick Google to understand why!
Q4 – Do you have any pet hates/things that annoy or irritate you?
I can never understand people who destroy the environment.
Nature is so precious and the mountain environment in particular is just incredible.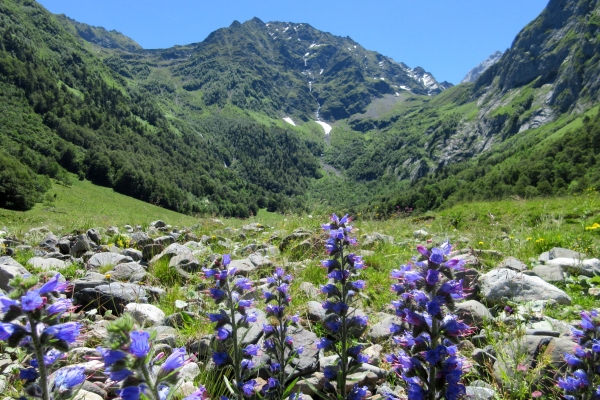 And yet, almost every day I see the damage that is being done … the destruction of habitats and of species, pollution ….the list is long and it really saddens me to see man's negative impact on the natural environment.
Q5 – Tell us about one of your most memorable hiking experiences
Oh, it was definitely when I stumbled across a brown bear!
I'd gone out to try and observe and monitor some wild animals and bumped into this emblematic animal of the Pyrenees!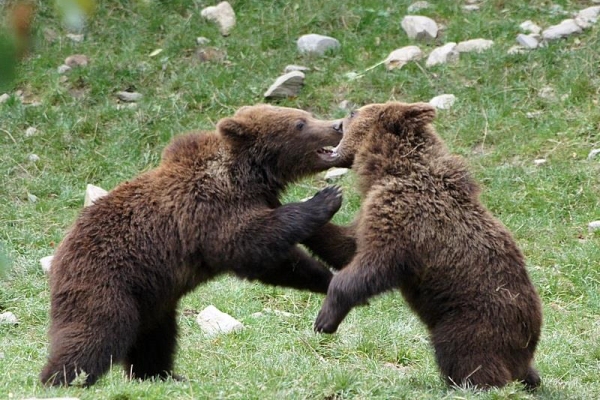 I don't know which of us was the most surprised, but for around 20 minutes we just stood there looking at each other, just 100m apart!
It was an incredible moment and I couldn't believe my eyes as it's not easy to see a bear in the Pyrenees in its natural habitat.
This was just one of the extraordinary scenes that the Pyrenees can offer the mountain hiker. These are moments which stay with you forever.
Q6 – Tell us about an amusing incident that you may have experienced when guiding clients
Hah, that was when we had to cross a river almost stark naked!
It was just after a storm and the river level had risen very quickly. We had to cross stripped down to our underwear in order to keep the rest of our clothes dry!
Sometimes you just have to go with the flow and quickly adjust to unexpected situations as they arise.
Q7 – What has been your most memorable close encounter with an interesting animal or bird?
One of the fascinating creatures in which I have a passionate interest is the bearded vulture and I've been lucky enough to see it from close quarters.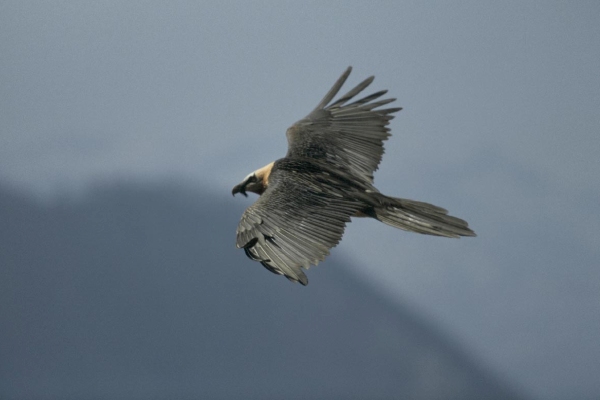 For over 20 years I've been observing this incredible creature which, with its 3 metre wing span, is the largest bird in Europe.
It is part eagle, part vulture and almost became extinct in the Pyrenees.
But thanks to it's protected species status and an ongoing reintroduction programme, it's once again possible to observe the bearded vulture in the skies of the Pyrenees.
It lives off a diet of bones and it's ability to break even the biggest bones by carrying them up high and then dropping them onto rocks is truly incredible.
One day when hiking with a group, we were able to observe this extraordinary behaviour. It was just the most amazing experience which I will never forget!
Q8 – Which local food should everybody try?
The gastronomy of the Pyrenees is simple and yet quite superb with a whole range of local products.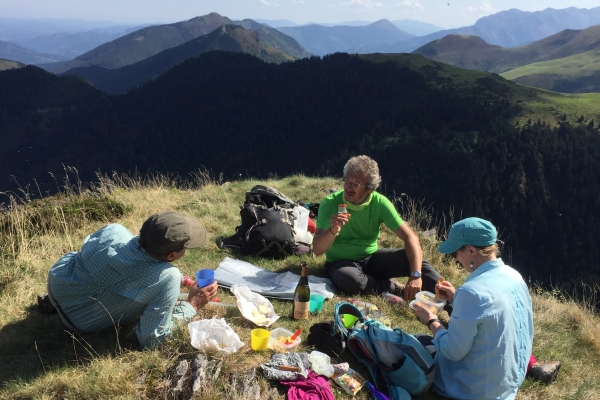 I remember guiding a couple who were very interested in the subject as we had found some mushrooms on a hike.
In the Pyrenees, and SW France in general, hunting for wild mushrooms and especially cèpes is a very popular pass time.
Being able to identify them and then cook them into a dish really is a satisfying experience.
I recommend a cèpe mushroom omelette accompanied by some local ewe's milk cheese and washed down with a good red wine. One from the Saint Mont vineyards is always appreciated.
It's a very local wine, produced in the Gers department and is the perfect accompaniment to several Pyrenean dishes.
Q9 – Tell us one fact about the Pyrenees that people may not know
The Pyrenees mountain range contains the greatest number of lakes in the whole of Europe!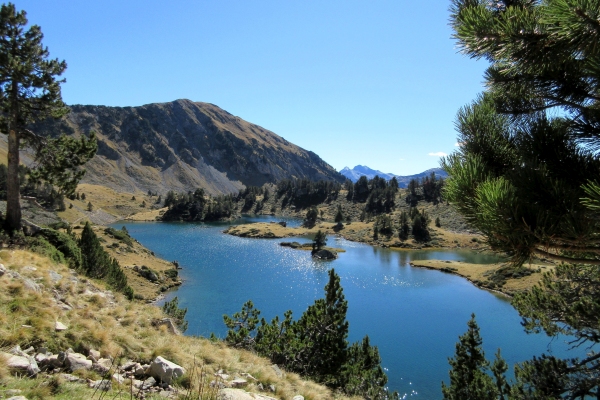 It's hard to give an exact figure, but there are more than 2500 lakes spread across both the French and Spanish sides of the chain.
There are various names for 'lake' depending on where they are, but they include lac, étang and estanys. They are nearly always in a spectacular mountain setting.
Q10 – What advice would you give to people visiting the Pyrenees for the first time
If you're coming for the first time and want to discover the true nature and identity of the Pyrenees mountains then do use the services of a local guide.
It really is the best way to safely explore off the beaten path and at a pace that suits you.
Many thanks to Marc for this great insight into his world.
He's available both for bespoke hiking holidays in the Pyrenees and is the preferred guide for many of our small group hiking holidays too.
The autumn is our favourite time for hiking in the Pyrenees, when the weather is generally stable and warm.
Contact us for a personalised quote for your next mountain hiking holiday.