"I could not have arranged these activities with this calibre of service providers myself."
We're incredibly proud of all of the instructors, guides and activity providers with whom we partner in the French and Spanish Pyrenees.
We've invested a great deal of time and effort into finding the very best in the business, those who will provide our lovely guests with the most memorable experiences.
So who are they? What makes them tick?
In a series of short interviews, we'll give you an in-depth insight into some of our key partners which I'm sure you'll find fascinating!
Meet mountain biking guide Ian
We're getting the show on the road with the lovely Ian who is the mountain bike guide for our Women's MTB holidays, Mixed MTB holidays and MTB coaching weeks too.
"With the super experienced guiding provided by Ian, both myself & others felt much more capable & confident at tackling stuff!"
He's an experienced and professional mountain biking guide and skills coach with whom we know you'll have the mountain biking holiday of a lifetime.
Q 1 – Why did you choose to make your home in the Pyrenees?
I always wanted to live in the mountains. I spent over 10 years managing a wood mill working 12hr shifts and most Saturdays. Every holiday I headed to the mountains to ride my bike.
When I was given the opportunity to work as a mountain bike guide I jumped at the chance and quit my job. I spent a few years working as a mountain bike guide in different parts of the world, including the Alps.
However some areas started becoming too busy and the trails too man made for my liking. I prefer natural trails where you feel like you're on an adventure on every ride.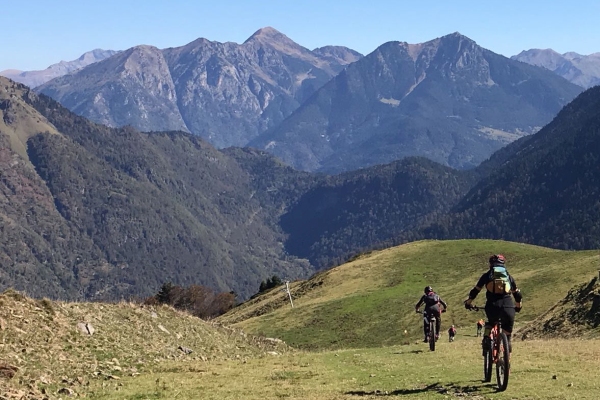 A friend invited me to ride in Luchon in the French Pyrenees and the rest is history. I have never wanted to leave this valley since and after 15 years I'm still finding new trails for guests to ride each year.
Q2 – What are your favourite things about living in the area?
The mountain views and the trails where you very rarely see another soul. You can ride your bike and see more wildlife than you do humans.
Q3 – What is it about mountain bike guiding and skills coaching that gives you the most pleasure?
Seeing how guests progress day after day. Often on the first ride guests can feel nervous and even intimidated by riding in a new area.
After a few coaching tips and gentle encouragement guests can't believe what they're riding down by the end of the week.
Q4 – Tell us one surprising fact about you that will make people smile
Erm…coffee makes me smile…. I'm a coffee addict!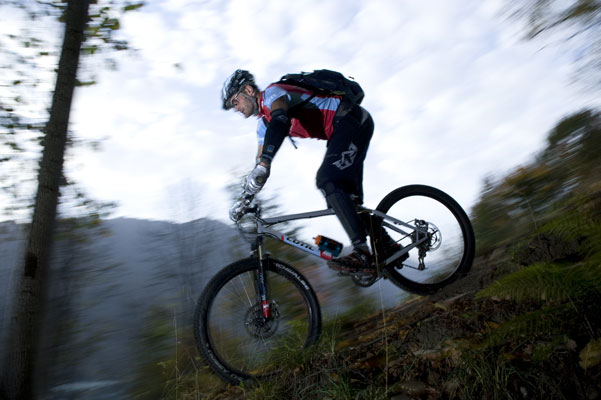 Q5 – Do you have any pet hates
My wife not putting my tools back and hiding the coffee machine!
Q6 – Tell us about one of your most rewarding guiding or coaching experiences
Meeting my future wife when I was guiding and then teaching her to ride a bike.
That was a very special day for both of us. Not easy to coach your partner, but coaching Kate is the only time she listens to me 🙂
Kate had accidentally booked herself on the wrong holiday and didn't realise she was on a mountain bike holiday. 5 years later Kate represented Australia at the cross country world championships.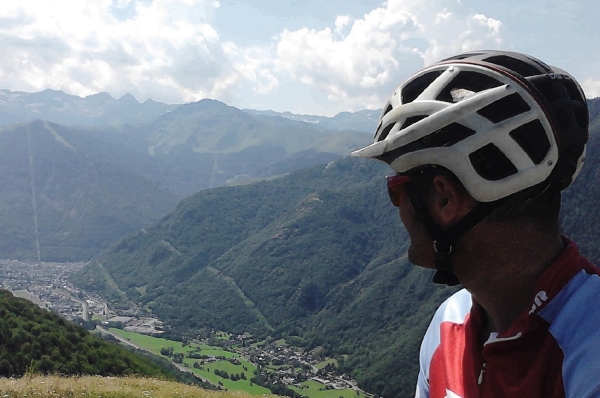 Q7 – Tell us about an amusing incident that you have experienced when out on the trails
There have been alot of hilarious incidents, such as riding with a friend who decided to jump over an electric fence to check out a trail. The bike got stuck and so did he. Never seen this friend of mine jump like he did that day.
Also there have been issues with clothing malfunctions and guests ripping shorts in the wrong places.
Q8 – Which local food should everybody try
Love the bread and also the local mountain cheese sold at the outdoor market every Wednesday…and Luchon chocolate!
Q9 – Tell us one fact about the Pyrenees that people may not know
This area really hasn't changed in the last 15 years since we've lived here! The unspoiled beauty and quiet trails are just the same.
Q10 – What advice would you give to people visiting the Pyrenees for the first time
You can learn more from talking to the locals than you will from the internet. Make time to take part in local activities and tap into the local knowledge while you are here.
Many thanks to Ian for these great answers!