Don't get caught short on your first snowshoeing adventure. Digest our ultimate snowshoeing kit list and arrive in the mountains ready for whatever your snowshoeing adventure throws at you.
Snowshoe kit you don't need to bring
If you have booked one of our snowshoeing adventure holidays you are safe in the knowledge that important kit such as snowshoes and poles will be provided by your guide.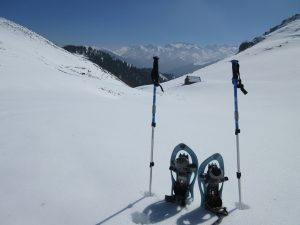 Other safety equipment such as avalanche transceivers and snow safety kits will also be taken care of.
Essential snowshoeing kit
Walking Boots – Sturdy walking boots are essential for snowshoeing as you will be strapping your snowshoes to them. Walking trainers are not rigid or sturdy enough and probably won't be waterproof either. Your footwear needs to be warm and a barrier against the snow, so choose your footwear accordingly.
Walking socks – Bring 2 or 3 pairs of warm walking socks. Invest in some proper walking socks which are designed for the job and make sure they are comfortable with your boots. Have a trial walk at home. Good woollen socks will keeping your toes toasty warm.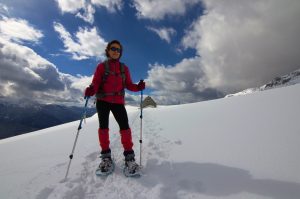 Gaiters – A pair of gaiters provide extra defence against snow going into your walking boots and giving you wet socks.
Outer jacket and trousers – you may work up quite a sweat when snowshoeing, so opt for a waterproof but breathable and ideally lightweight outer shell.
Clothing layers – layering is key if you want to be comfortable when snowshoeing. Your body temperature may fluctuate quite significantly during the day as you walk up and down hills and then have a rest to eat. A heavy jacket is not ideal and will just add extra weight that you really don't want on a snowshoeing adventure
On your upper body next to the skin we recommend you wear a thin thermal layer made of wicking material. Here in The Adventure Creators' office we're big fans of Merino wool as it's insulating as well as wicking and so keeps you warm as well as dry when you are working up a sweat.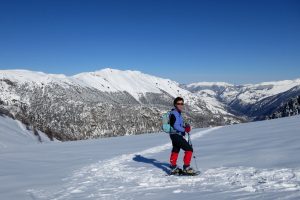 You may want to wear a mid weight fleece on top and also bring a thicker fleece in case it's really cold. On your bottom half we recommend thermal leggings/tights. Don't wear padded salopettes that you may wear for skiing as you'll quickly overheat.
Your outer layer should be a lightweight breathable but waterproof jacket if possible.
Gloves – silk liner gloves are fantastic. They are lightweight and surprisingly insulating. They can be worn either underneath a pair of waterproof ski gloves/warm fleecy gloves or on their own, depending on the conditions.
Hat, neck warmer or ear warmer – you lose a lot of heat through your head, particularly if it's windy. An all-in-one hat with a fleecy lining and flaps over the ears is perfect. On warm, sunny winter days you may just need a sun hat or cap. We also recommend bringing a buff which is super lightweight and which you can wear either around your neck or on your head. Avoid wearing a big long scarf as it will just get in the way.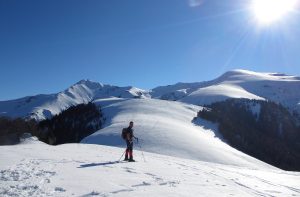 Backpack – A 25 litre rucksack should be plenty big enough for a day's snowshoeing. It's advisable to put a waterproof rucksack liner inside your rucksack to keep your spare clothes dry
Other bits and bobs – a good sized water flask or a plastic water bottle. You may use a Platypus or similar water system when hiking at home, but be aware that you will probably need to insulate the tube otherwise it may freeze.
Sun screen and lip salve with sunscreen are essential. Sun glasses too, although you should make sure they wrap well round your eyes at the sides to protect you from snow glare from the ground. If snow is falling then good quality goggles are invaluable.
Other useful stuff to bring snowshoeing
Camera, spare film or memory card and batteries. These probably come more under 'essential' than 'useful' as there are just so many beautiful moments to capture in a snowshoeing adventure
Binoculars. If you have a lightweight pair of binoculars do bring them. You may be lucky enough to spot raptors such as the bearded vulture, golden eagles and griffon vultures, as well as chamois and maybe even ibex.
Flask. Who doesn't like a good warming cup of hot chocolate when they are out on the hill
A small sit mat or bit of old camping mat. Not essential but good for a bit of comfort when picnicking in the snow.