A snowshoeing adventure holiday for families in the French Pyrenees
INCLUDED
7 nights accommodation
Snowshoes and poles
Your personal holiday manager
5 snowshoeing experiences
2h pass to the pools of  Balnea spa
NOT INCLUDED
Flights
Transfers
A guided snowshoeing holiday is the most environmentally friendly way in which to explore the beautiful and wild mountain environment of the Pyrenees.
There's no fixed accommodation on this snowshoeing adventure and your options include self-catering properties, charming guest houses and even a 4* hotel. Let us know your preference when you enquire.
What can I expect?
This family friendly snowshoeing adventure holiday is suitable for kids aged 12+.
Your experienced local guides know just where to go to take you off the regular tourist routes, keeping any path erosion and environmental impact to a minimum.
Experiences included in this package;
a half day introduction to snowshoeing along easy forest tracks and picturesque mountainside
a snowshoeing afternoon to discover the winter life of animals in the Pyrenees
a day of easy snowshoeing with some incredible mountain vistas
a 'Pyrenees traditions' evening – a torchlit snowshoe to a mountain hut where you'll enjoy a meal of traditional Pyrenees 'garbure'
a snowshoeing and 'build your first igloo' experience
If you're feeling fit and up for it then we can also include a full day of snowshoeing to bag your first Pyrenees 2000m peak ….an incredibly rewarding experience!
Is this snowshoeing holiday for you?
This snowshoeing holiday is ideal for a family with active older kids who are looking for an alternative winter holiday.
It's also the perfect option for all outdoors lovers who don't ski and who want to safely discover a true off the beaten track winter wilderness in the company of a local and experienced guide.
Our hot snowshoeing advice blog post gives you all kinds of tips and tricks which will ensure you have the best time on your Pyrenees winter holiday.
What kit do you need to bring on your snowshoeing holiday in the Pyrenees? Here's everything you need to know.
Snowshoeing really is the perfect family winter adventure. Read more here.
Additional information
Your snowshoeing family adventure holiday – accommodation idea
One of the options for your stay is a cosy, welcoming guest house which is perfectly located in the Louron Valley, surrounded by some spectacular mountain scenery.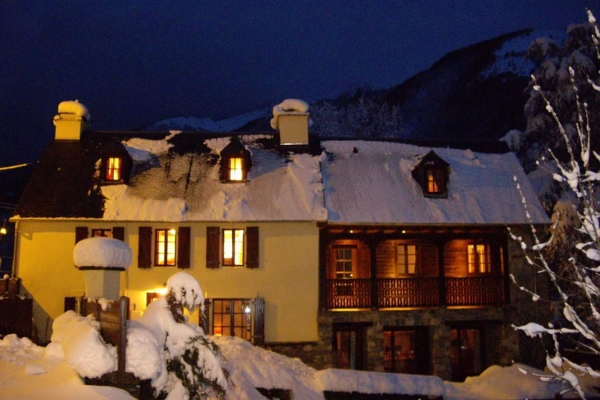 The British owner is a high mountain guide and is passionate about this area of the Pyrenees.
You will have en suite rooms for your stay and for your comfort and piece of mind, the number of people at the accommodation will be strictly limited.
During your stay, you will have use of the guests' salon/dining room as well as a cosy snug with English books and DVDs. You'll love the old chestnut beams and warm décor here which give the place a real homely feel.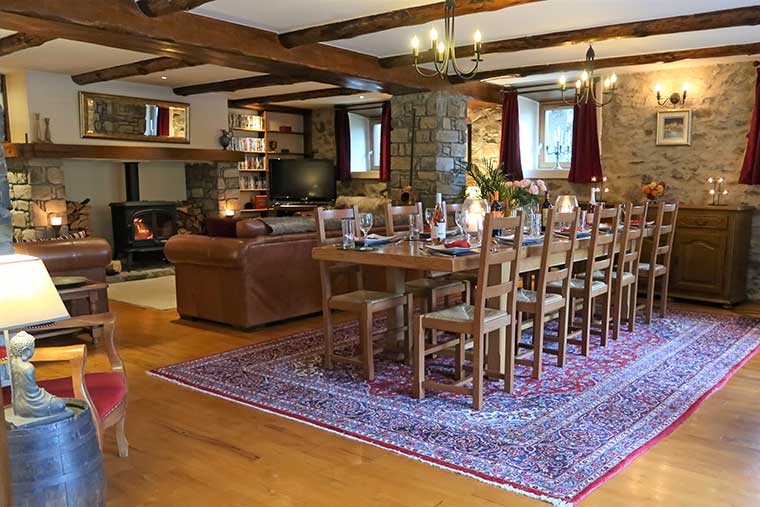 The chalet offers fully catered accommodation with delicious evening meals cooked 6 times a week by the in-house chef.
The beds in the beautiful guest rooms are super comfortable and equipped with the best quality bed linen.
Some have fabulous views up the valley to the mountains beyond.
This really is a home from home!